Mayhem in Paris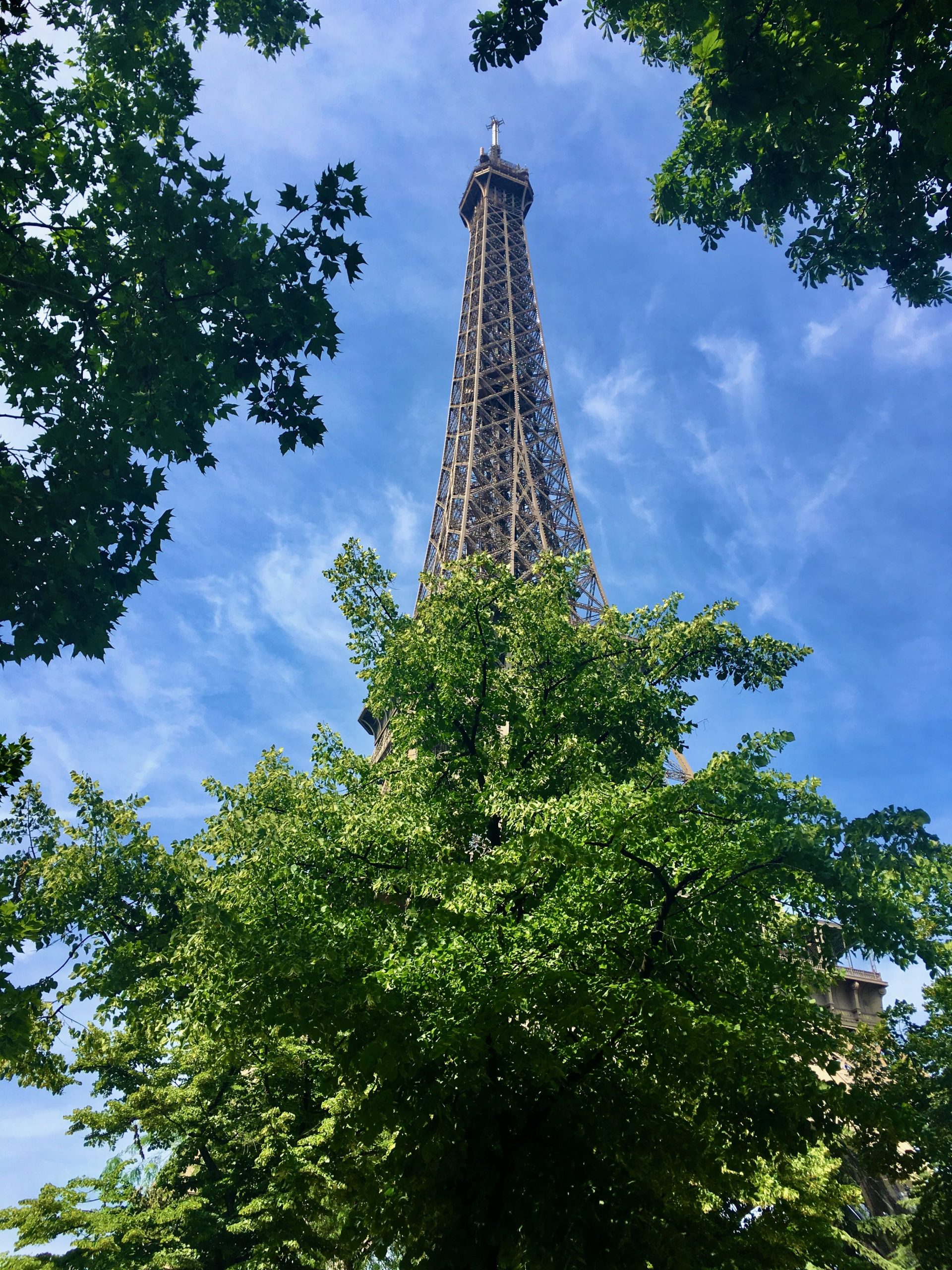 Molly has always had a thing about Paris. She even had a Paris themed birthday one year. So much so in fact, that it was a long-standing promise that I would take her for a girlie weekend away when she finished her GCSE's. Just her and me for a long weekend. It was going to be utter heaven. Or would it……
Day 1
The first tiny indicator that things weren't all going to go according to plan was on the drive to the airport, when I realised that I had booked us in to the wrong carpark. Instead of booking the one on site I had accidentally booked us into one a ten-minute taxi drive away. With no accessible taxis around and no desire to walk up the motorway, that was going to prove a little tricky. However, surely it wouldn't be a major problem and it could be easily rectified with a polite appeal to the parking attendant. How wrong I was.
Sixty pounds later, we made our way into the airport terminal with our newly purchased wheelie suitcases. As we normally travelled with battered rucksacks, we felt quite posh. However, we were then informed that regulations had changed since we had booked our flights and our shiny new suitcases did not now comply with cabin bag size.
The trip was proving expensive and we had yet to get on the plane. However, we had been planning this trip a long time. I decided to chalk it up to experience and just put it out of my mind.
Arrival into Paris after an uneventful flight and we were getting really excited by now. We collected our oversized trolley bags from the luggage carousel and made our way towards the train station to make our way into the centre of Paris. With the idea of making the most of every second of our trip we had booked tickets for what looked like being an amazing art exhibition on its last night. It was all timed to precision. But then we encountered Parisian special assistance. Or, more accurately, we didn't.
Having been advised by one of the few officials we could find to go to the special waiting room for people with disabilities, we did as we were told, only to find that there was nobody to be seen. Waiting around in hope for around twenty minutes, we eventually decided to go wandering to see if we could find someone to help.
After about ten minutes we came across a rather bored looking rail employee who told us that we had previously been directed to the wrong place. He made an alternative suggestion which we duly followed. We watched the clock. The minutes ticked past and nobody turned up. Surely, we could make our own way onto the train? We had been advised quite vociferously at the ticket desk that we would need assistance on to the train.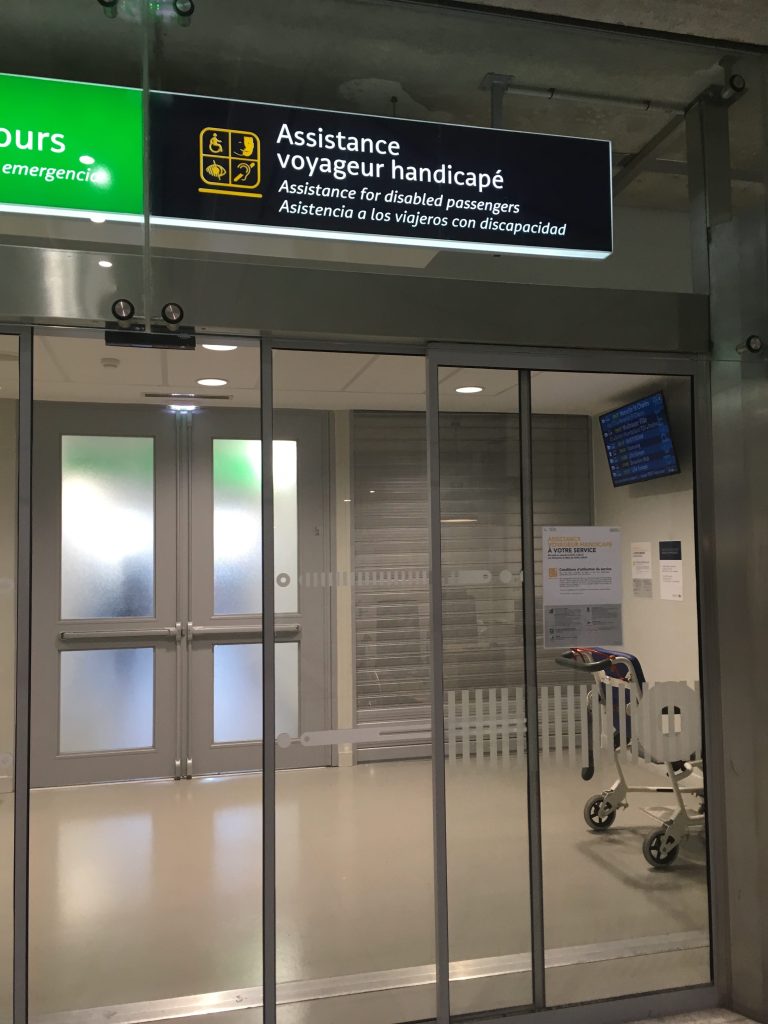 Now to put this into context, nine times out of ten when we travel Molly uses her manual wheelchair. This gives us a lot more freedom in terms of where we can access. It gives us the option to lift her on and off buses and trains where steps would otherwise cause difficulties.
But bringing her manual chair also has downsides. It means she has less independence. She is unable to self-propel for any significant time which means she is reliant on us taking her where she wants to go. We have to be one in front of the other, rather than next to each other so it makes talking to each other tricky. Independent transfers out of her chair make even simple tasks like going to the bathroom or getting into bed are more difficult. So, to enable us to just concentrate on having fun we had decided to bring her powered wheelchair. After all, we were going to France's capital city – how difficult could it be?
But, of course, it meant that I would be unable to lift her on to the train. This may be worth bearing in mind for any uninitiated people who believe they can lift a powerchair.
We live on a small country lane and one day it was being resurfaced which meant we couldn't get to the school bus in the village square. One very helpful workman offered to carry Molly, in her wheelchair, over the freshly laid tarmac. Despite my protestations that she would be too heavy, he assured me confidently that it would be OK. I watched as he tried and restrained myself from an 'I told you so' when he called a colleague to help. Same with the third person. Watched in amusement as the fourth joined and they were finally able to lift her regally over the tarmac like a princess in her sedan chair. She thought it was hilarious. I did too but I knew I wouldn't be able to lift her on the train. Molly has always been petite and at the time weighed about 40kg. Her wheelchair weighed four times that.
We eventually manged to find a rather grumpy rail employee who said they could provide ramp assistance so we could board the train. Following them to the platform, we were then told that the train was now going from a different one. All change and as we were about to board we were told that our destination station had been closed due to some problems. We would now have to go several stations in the wrong direction to get on the right line to get off at an accessible station. It had now been an hour and a half since we arrived at the station. Our entry slot for the art exhibition was a distant memory.
Eventually arriving in the centre, it was like arriving at the party as the last reveller was leaving. There had been some festival on in the city that night but as we finally made it there it was ending. Not to worry, stay positive, we were in Paris!
Rather tired after all the shenanigans, we decided to drop our bags at the hotel before just going out locally for something to eat. On a recommendation we headed up a very steep hill to an area supposed to be full of bars and restaurants. It was, but it was also packed with people due to some sort of celebration going on. We couldn't get a table anywhere for love nor money, so, after a quick drink and the realisation that we were too late for the local shop, headed back to the hotel.
Day 2
Next morning, we were up and raring to go. We walked miles that day. We visited the Pantheon and the Jardin du Luxembourg. We walked along Les Invalides. We went up and down the Champs Elysees. We saw the Arc de Triomphe. We sat in little pavement cafes drinking lemon sodas, watching the world go by and recharging Molly's wheelchair. We tried to visit the Louvre only to find out it was closed that day. I tried out my French on the security guard and was very pleased that it was good enough that he answered me in French. But I couldn't understand his answer, so that triumph was short lived when I had to ask him to repeat it in English…. We had an ice-cream while sunning ourselves by the lake in the Tuileries. We went exploring on the left bank, visiting all the little stalls and going to have a look at Notre Dame which still had all the scaffolding due to the recent fire. And then the evening found us wandering along by the Seine and all the little pavement restaurants. It was magical.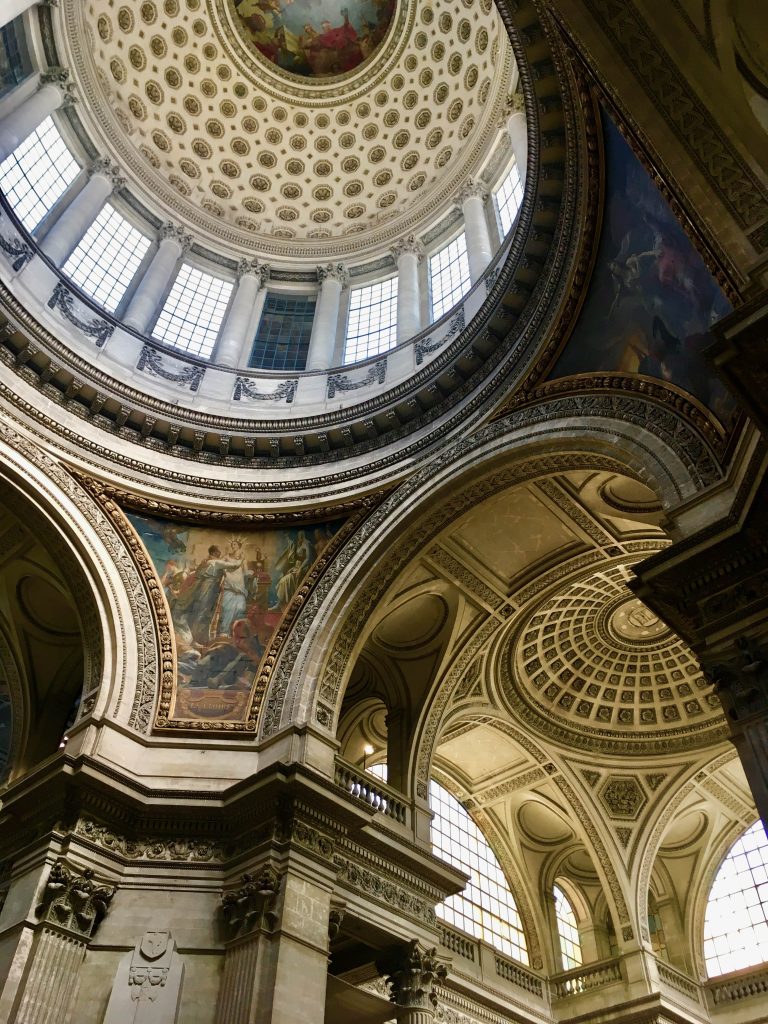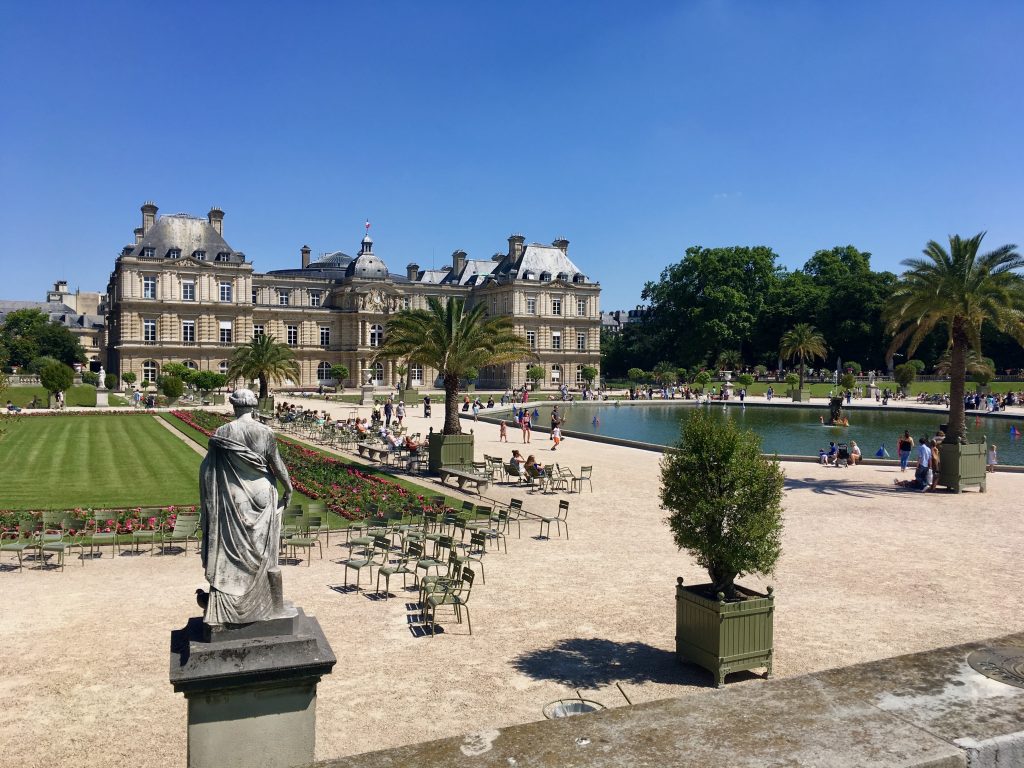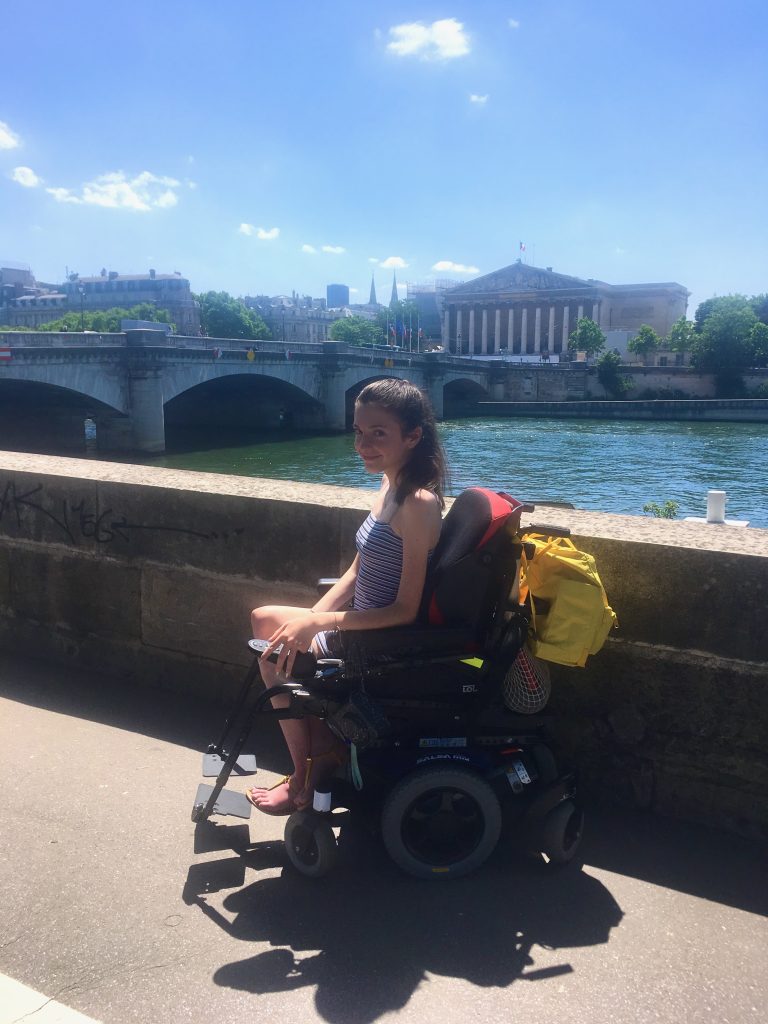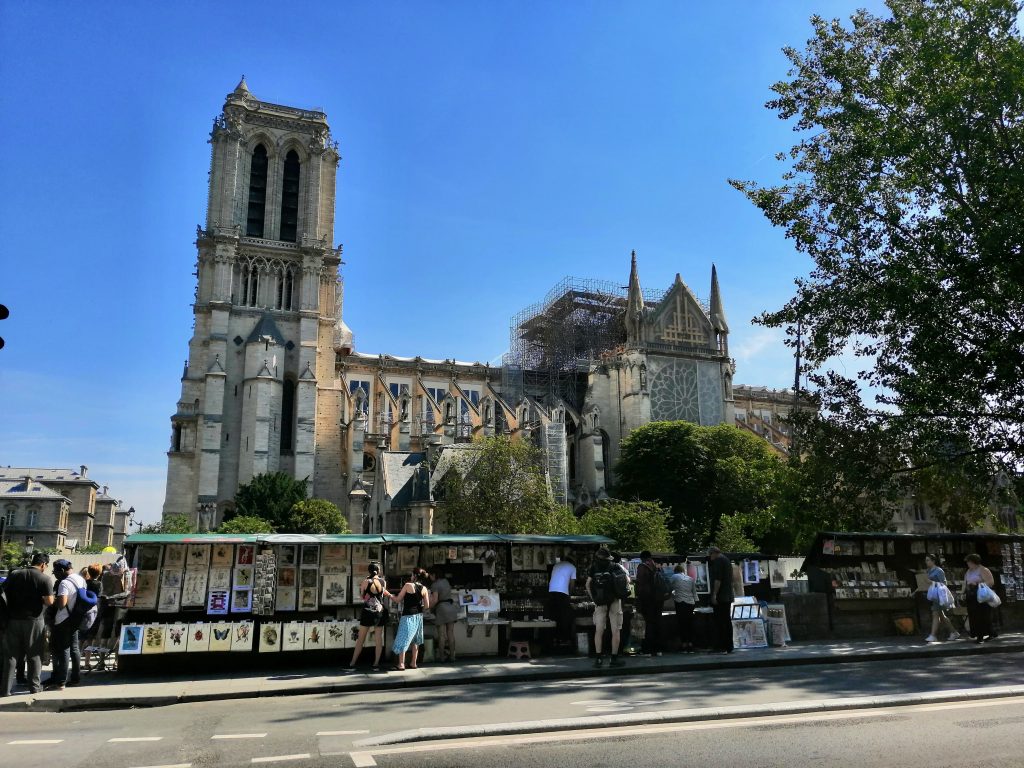 https://awheelandaway.com/portfolio-item/the-pantheon/
https://awheelandaway.com/portfolio-item/jardin-du-luxembourg/
Day 3
So, the next day, we were similarly full of excitement to go exploring. And the day started well. A gorgeous little street market just up from the hotel saw Molly being gifted a beautiful leather notebook from one stall holder. The sun was shining and the weather was glorious. We tried again to visit the Louvre. This time all the tickets were sold out. But no matter, we were having fun just browsing the streets and pretending to be Parisian.
We found ourselves at Les Halles, a large shopping mall, just as Molly's battery was starting to run low. What perfect timing, we could recharge her chair while grabbing a drink in one of the many of the many cafes inside. We placed our order and settled down. I plugged in her wheelchair and there was an explosion. Literally. Her battery charger made a loud noise and sparks flew out. Everything went black on the screen.
It was disastrous. She had less than a quarter of her battery left. That would probably get us about a mile or two at best. We were miles from our hotel with two days of our trip still to go. As already mentioned, the wheelchair weighs a ton. I could push it for about two metres at most.
The café staff recommended a hardware store nearby that may be able to provide us with some sort of charger. Dubious, but with little choice, we made a calculated decision to use some of her precious power to give it a go. Needless to say, they couldn't supply one. We spent five hours in the shop though as they jumped through a thousand hoops in an effort to help. They even managed to find the personal mobile number of the CEO of the company who supplied her existing charger. Ringing him to see if there was a local supplier, they realised he was based in China and so it was the middle of the night. He took it very well, all things considered….
After all this time we eventually managed to locate an accessible taxi that got us back to our hotel. There was a hospital nearby so, settling Molly in our room, I went to see if they may have at best a charger or at worst a manual wheelchair I could borrow. Nope. Hotel were no help whatsoever. She couldn't leave the room due to dwindling battery power. We needed enough to at least get us to the airport if all else failed.
Resigning ourselves to spending the next forty-eight hours in our hotel room I decided to go and get us some food. It was Sunday. Everywhere was closed except for a little corner shop. I spent ridiculous amounts of money on anything I could find and we sat on the bed and stuffed ourselves silly. It was actually lovely – we had a real giggle and I had a hilarious evening with my girl.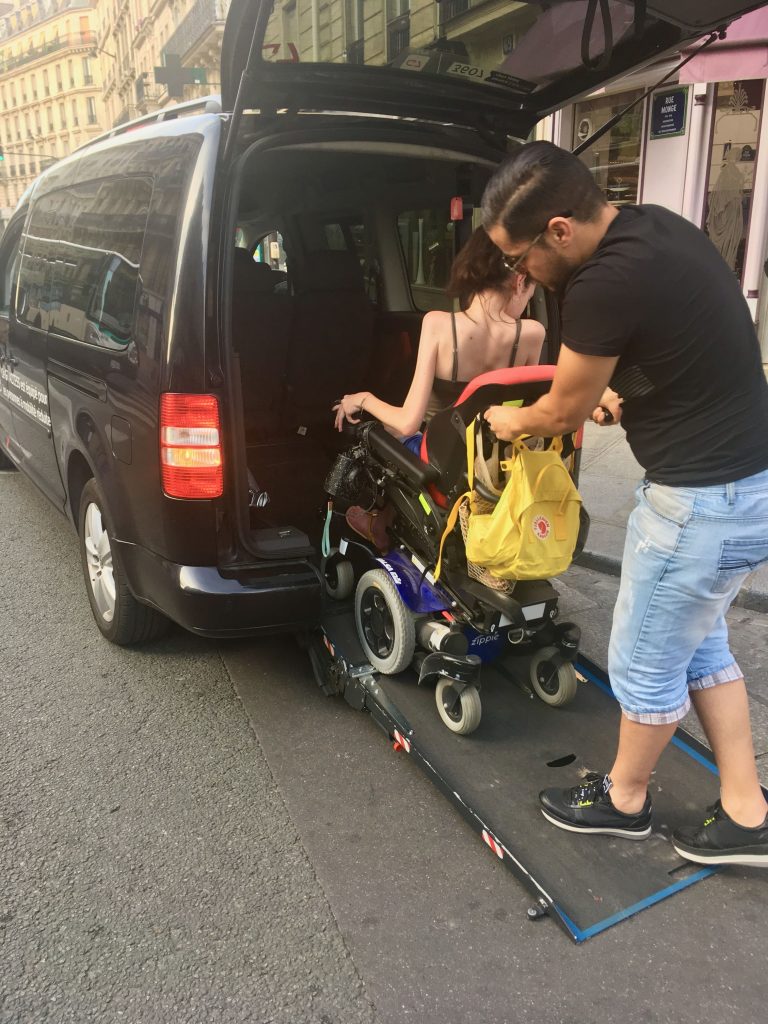 Day 4
The shortened (!) version is that the next day we had some success. I was able to locate a hire company who brought out an outsized manual wheelchair for us to use as an interim measure. Despite it being a bit difficult to manoeuvre, we were able to go exploring before returning later in the day to meet a wonderful chap who arrived to bring us a new charger.
https://awheelandaway.com/portfolio-item/tout-le-confort-du-malade/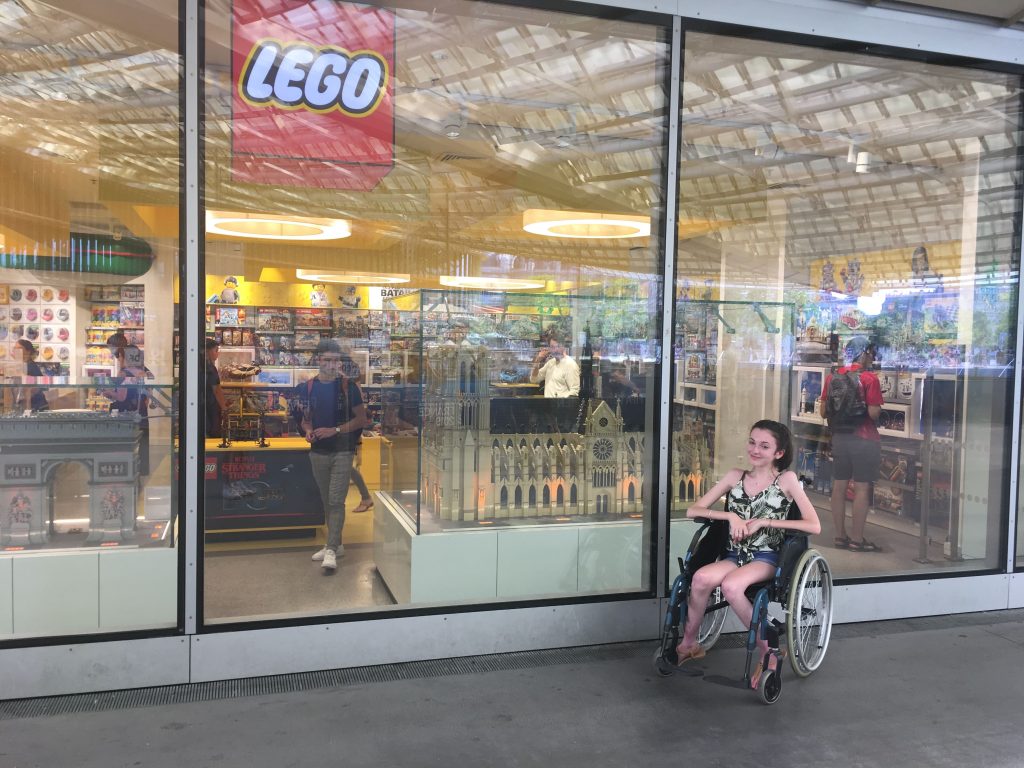 Day 5
The rest of our weekend was great – we finally made it to the Eiffel Tower after a mammoth walk in searing heat. We go the obligatory photos in front of it.
We walked so far by the time we go to the airport the next day, she was down to the last dregs of battery power. No matter, it would be enough to get us to the departure gate. Or would have been until we got there and they decided it was going to change to a different gate in a different terminal.
Anyone who has ever known anyone with a powerchair will know that when the battery is on its last legs the chair is slow. Very slow. Like barely moving slow. We took about fifteen minutes to get the two hundred metres or so to the train to take us to the other terminal, only to be told that they had made a mistake and it was actually going from the original gate. We didn't make it back. I had to push her the remainder of the way which nearly killed me.
Despite all this we were at the gate in good time. We had allowed plenty as Molly hates being the last to get on the plane. She doesn't like everyone watching her in the aisle chair and transferring into her seat on the plane. So, we had got there early. But best laid plans….
A problem with the special assistance meant that nobody turned up. Everybody started boarding. I offered to carry her on to the plane myself. No, health and safety said I wasn't allowed to. Our take off time came and went.
Eventually, almost an hour later, the special assistance team turned up. Molly was escorted on to the plane, mortified when she was informed that all passengers had been notified that the delay was due to a disabled passenger who was now getting onboard. Glaring at us over the bottles of water they had been provided with to mitigate the thirty-degree heat while they waited, we were, by this point, so past caring and in fits of giggles. Which probably did not endear us to our fellow passengers.
And eventually we arrived back into Exeter.
Our trip to Paris was a catalogue of disasters. It got to the point that each new one was just met with laughter and incredulity that something else could have gone wrong. But sometimes travel doesn't go according to plan. Quite frequently in fact. But the point is there are always ways around the mishaps.
And, despite it all, I had the most wonderful time away with my girl and it left me beyond proud. So many people would have been tearing their hair out by the end. Molly just took it all in her stride and dealt with it the way she has always approached everything. Unphased. Pragmatic. With humour. An absolute star. And of course, it just means we have to go back …….