Ceausescu and the Palace of Parliament, Bucharest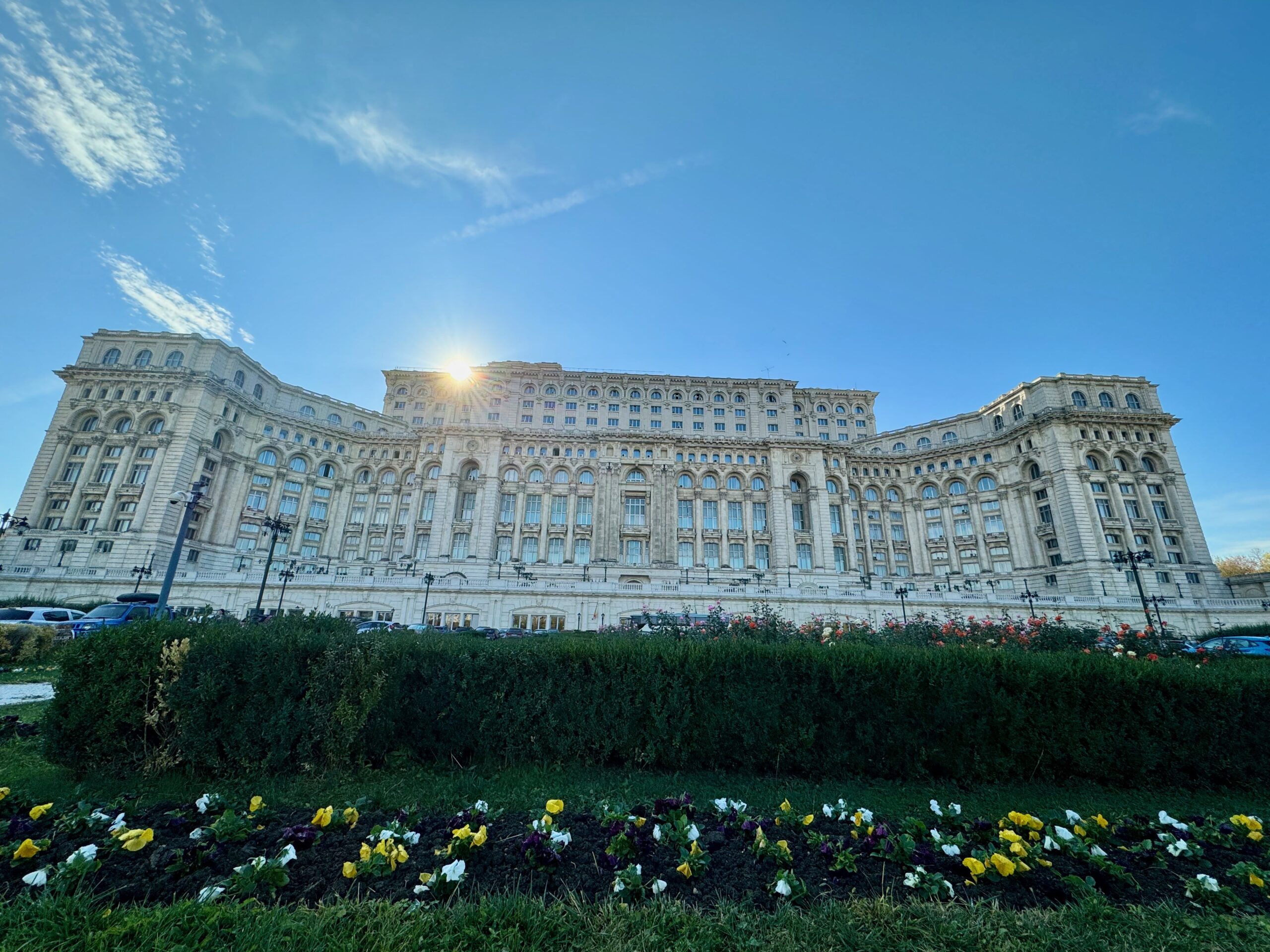 "By the end of this tour you will have walked 800m, climbed 250 steps and seen around 5% of the building".
Such are the closing words of our guide at the Palace of Parliament in Bucharest, illustrating clearly that we have only scratched the surface of this mammoth structure. Covering three hundred and sixty-five thousand square metres, it is officially the second largest building in the world after the Pentagon.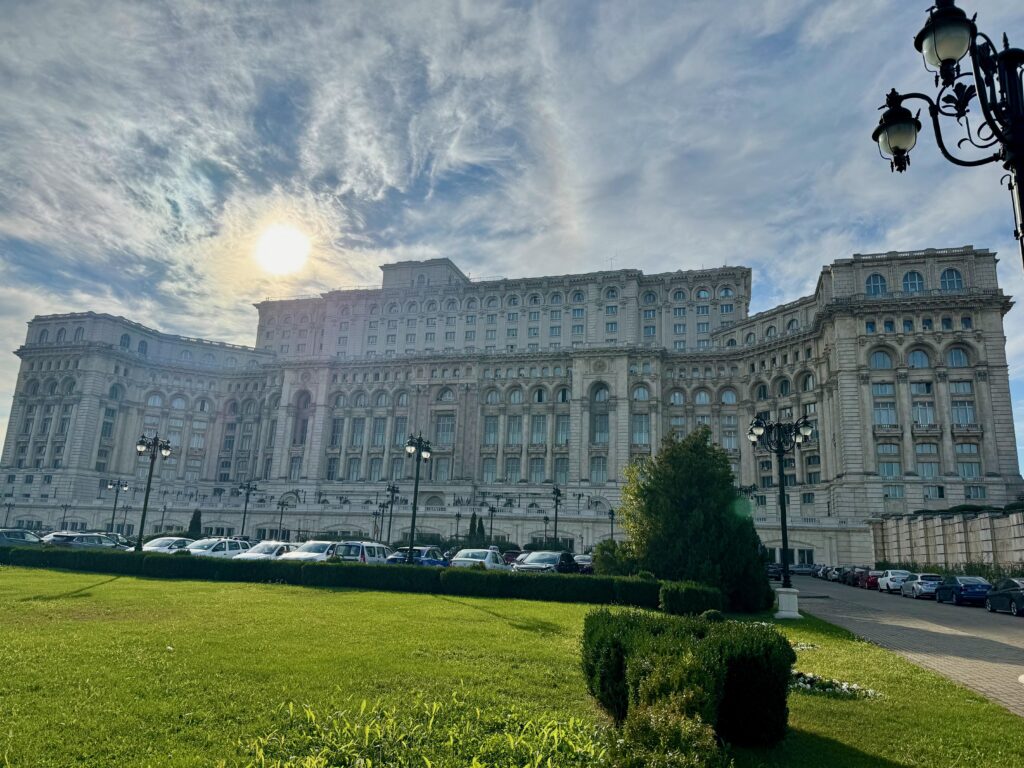 Construction originally started in 1983 on the whim of Romanian leader Nicolae Ceausescu. Today, forty years later, it is still only partially completed. His execution on Christmas Day 1995 meant that he never lived to see it used, as it only came into operation the following year.
The irony however is that while it was originally devised as a gargantuan vanity project on behalf of the former Communist dictator, it now houses the Romanian government and is a beacon for democracy in the country.
But it also highlights an interesting dichotomy that rears its head again and again in conversation. As a Westerner, growing up on cold war stories of oppression and fear, Ceausescu was always going to be a tyrant with no redeeming qualities. But speak to the average Romanian today and the feeling is slightly different. There is a nostalgia for the achievements he made and the many successful projects he instigated. As one person put it 'Anything that is any good in Romania was built by Ceausescu'. The overriding feelings is that things got done. Decide to build a dam in Communist times? Work would have been started next day and completed within the shortest possible time frame. Nowadays, it would take several months to even get permission to go ahead. People had stability, knowing that they would have a job and a house.
In the West we know Ceausescu as a despot inflicting terrible cruelties on his people while he lived in luxury. But in his home country there appears to be some form of sympathy for him. Many believe that the did not really know what was going on, misled by the advisers around him.
Our guide recounts one such story to us. His own father was an agricultural manager in Brasov in the Carpathian Mountains. Faced with the news that the president was about to visit, a frenzy ensued to ensure that everything was perfect. Panic arose when it was noted that the sheep were partly grey, certainly not the idyllic creamy white animals that would be expected. Frantic phone calls found some of the aforementioned colour in Constanta. Fifty of them were flown by helicopter to play their part in the leader's visit. They were then returned the same way immediately afterwards.
There is a certain pride when Romanians talk of how Ceausescu received US presidents Nixon and Ford, as well as being received by the Queen at Buckingham Place. But then we remember that his ideas for the Palace of Parliament stemmed from a deepening friendship with the North Korean president as his own governing style started to move more in line.
We find the same contradiction throughout our visit.
The palace is quite something to behold – from the front it looks large. But then you realise that facade is repeated four times, in a rectangle, and you truly start to appreciate the size. One expects it to be intimidating, oppressive even, inside, but the entrance takes you into a huge light flooded room. This is filled with Romanian contemporary art, exhibitions which change by the week to reflect the very best of Romanian talent.
But then entry is akin to going through security at the airport. Bags go through x-ray machines and all visitors must show their passports before going through a full body scanner. Nearby signs remind me that weapons are not allowed. I heave a huge sigh of relief that I have left my knuckle dusters at home today.
Once through security our group are then shepherded up the stairs before being given a list of instructions. Thes include a combination of warning ones about staying with the group and not taking photos of certain areas or security cameras, along with more curiously comforting ones, motherly even, about being careful not to trip over the carpet. Our guide is a friendly, effervescent young woman. But she keeps an eagle eye on the whole group and will not move on until everyone is close by.
The tour itself is concise but fascinating. We get an idea of Ceausescu the patriot. We see his use of Romanian materials throughout and his choices of art and cultural references on display. Rooms are huge and majestic; décor is lavish and opulent. We see marble of all different colours. There are many silk wall panels. Many of the carpets had to be stitched together on site as they were so massive. There are enormous chandeliers, one so large it houses a chamber big enough to fit four people inside.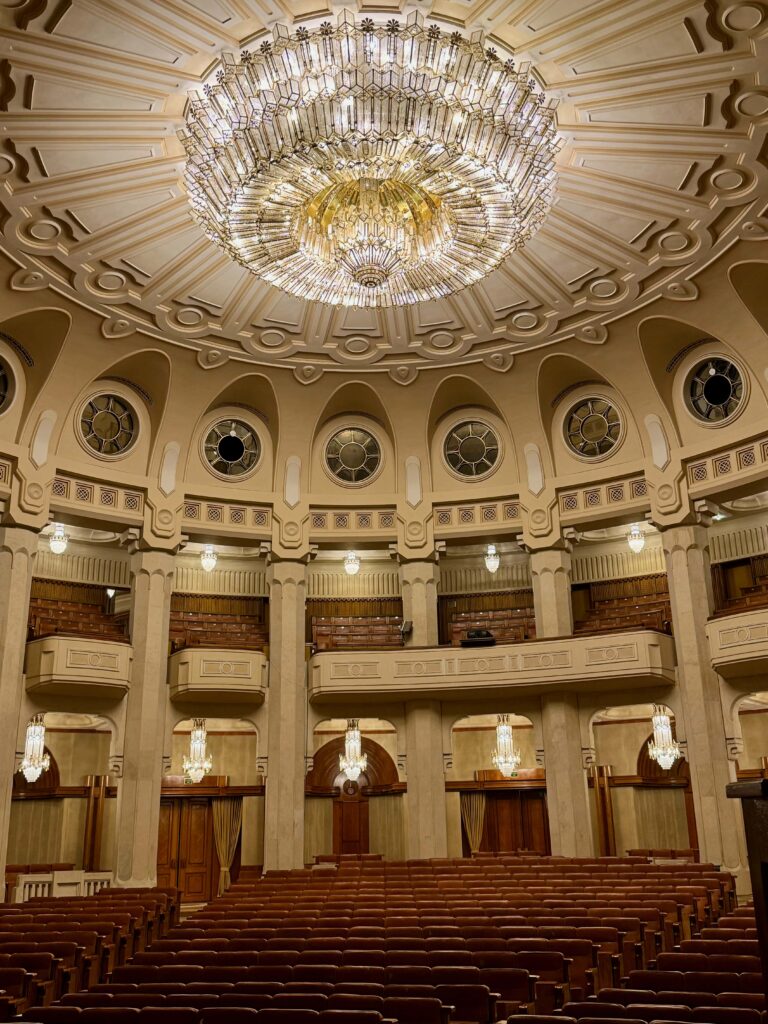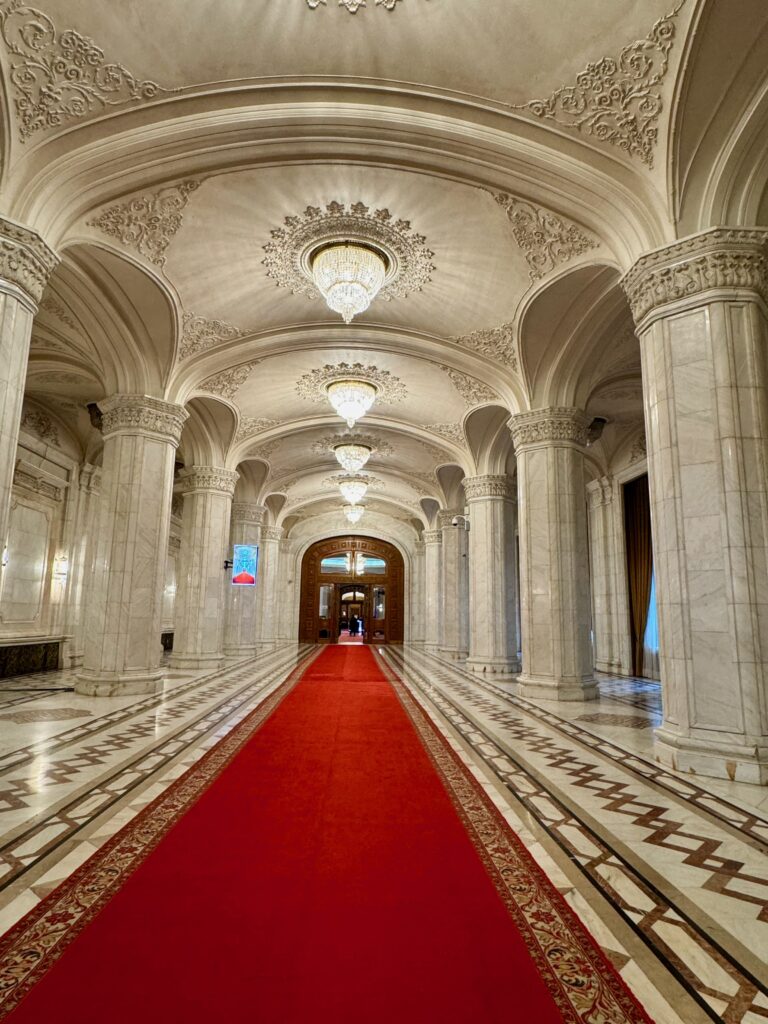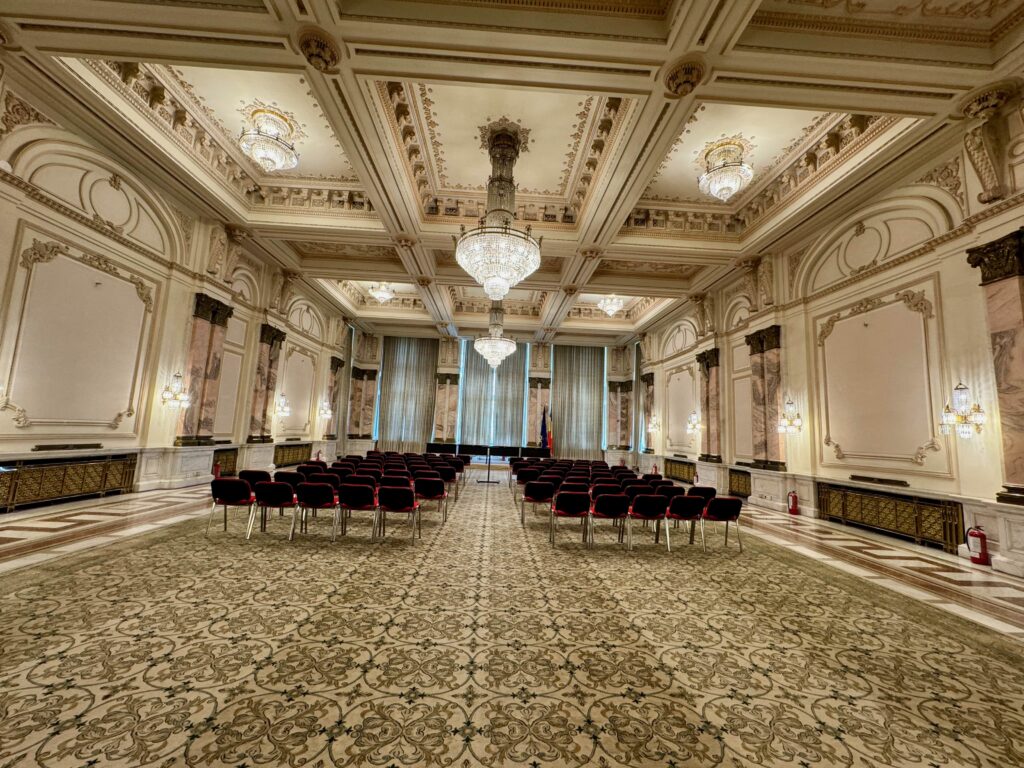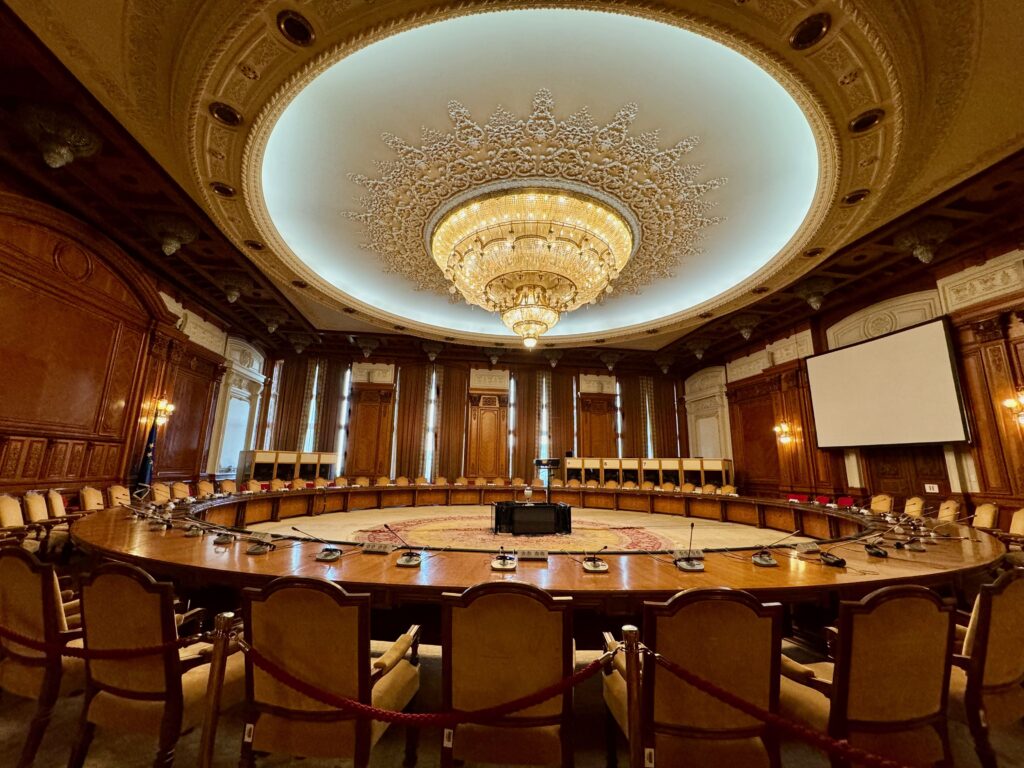 It is grandiose and certainly feels fitting for the home of the country's parliament. But then we walk through another room. There is music blaring. There is a balloon arch. Tens of wedding dresses are hanging on rails, as a group of people prepare for a wedding fair to be held there later that day. It is hard to reconcile that with an image of the same thing happening in the Houses of Parliament. Therein lies the genius of the place and the Romanian people.
The construction of the palace came with a huge human cost. The original plans for the building necessitated the forcible clearing of a huge swathe of land around four kilometres long. It also demanded twenty-four hour a day labour for seventy architects and over two thousand workers. People who had owned property there for years were relocated with no consideration. Resistance would have been futile, not to mention inherently dangerous.
In some of the former Eastern European countries such monuments to ego are reviled and and have been destroyed. But the Romanian people have been able to distil the good from the bad. There is undoubtedly much beauty in the building. The detail is exceptional, the use of only the best materials stunning and the location of the building looking down onto its own version of the Champs Elysees quite spectacular. The Palace has risen from the ashes of the Communist regime to house a vibrant democratic government. It has also become a place of the people. It is at once a 'poke in the eye' to Communism, coupled with a recognition of what was good from the regime and a real sense of looking forward. And in doing so it offers a fascinating glimpse into the old and the new of Romanian politics, the dictator and the democracy.
Entry to the Palace of Parliament is by organised tour only. These run every day unless there are conferences or meetings. You must pre-book tours. These last for approximately one hour. All visitors must bring a passport or other identity documents and undergo a strict security check.
There is a lift available for disabled visitors, making the tour fully accessible. However, a dedicated guide is necessary and it so must be booked three days in advance.
For more information please visit https://www.cdep.ro/pls/dic/site2015.home?idl=2
Further reading https://awheelandaway.com/portfolio-item/palace-of-parliament/