Adaptive surfing on the North Cornwall coast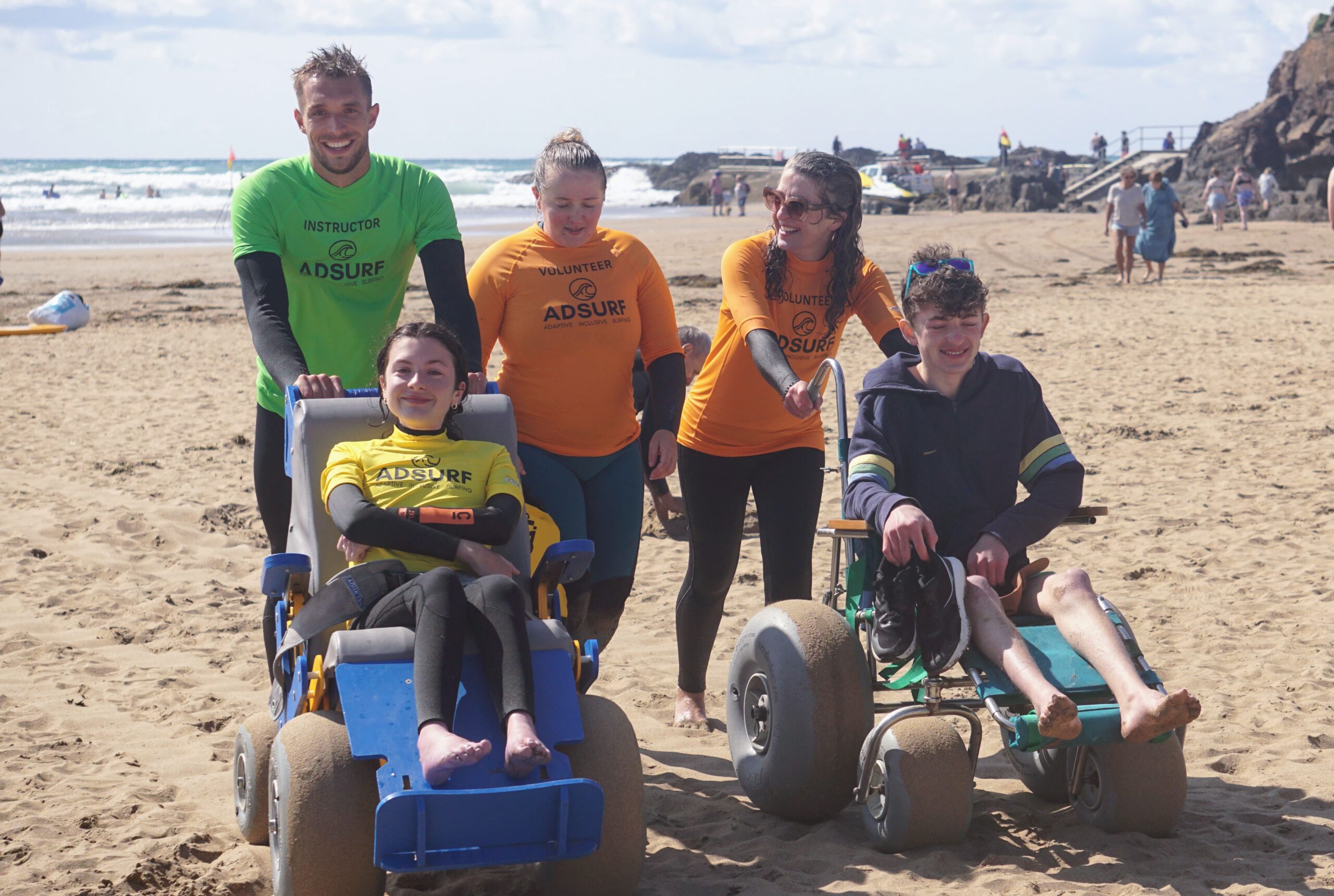 The north coasts of Devon and Cornwall are surfing hotspots. Whatever the time of year, there will always be some brave, wet suited individual in the sea trying to catch a wave. So, new adaptive surfing charity Adsurf is perfectly placed to cater to both locals and holidaymakers who may want to try surfing but have disabilities that have previously made it difficult. At first glance however, as a sport for the person with disabilities, surfing may not immediately seem the most accessible activity.
So the opportunity to try out adaptive surfing with them was very appealing. However, my children responded slightly differently. My offspring are definitely an argument for nature over nurture. Although they have been brought up in exactly the same way, they could not be more different in terms of their passions.
Stan is an active outdoorsy type who loves trying out new sports and activities. His natural habitat is on Dartmoor, camping in a wood or out on his bike taking photos of sunsets.
Molly is more of a socialite, enjoying spending time with her friends. She is at her happiest when at gigs or festivals with said friends. Despite studying just up the road from her dad's favourite team she is not enamoured of sport in any guise. She has also never been a fan of the beach, mainly due to the restraints it places on her mobility.
So, when when we suggested that she have a go, it took a little persuasion. There were a number of reasons why she was less than enthusiastic:
It's a sport.
She wasn't keen on the idea of going in a beach wheelchair, feeling that she would look very conspicuous.
She was concerned how comfortable she would be.
Despite being willing to give many things a go, surfing was the one thing she said she would never try. She is not a huge fan of the sea, possibly related to an unfortunate incident several years back in Vietnam but also due to feeling that she has no control.
It helped that Stan had already had a few lessons with Cyril, one of the brains behind the charity and all-round lovely chap. With his encouragement and over the course of a few lessons, Stan has progressed from lying on the board with Cyril guiding it, to now being able to stand up. This is a massive achievement for him. In fact, they are now discussing him trying it out completely unaided with a suitable board. In all honesty, we hadn't anticipated this as a possibility, so we are delighted. It may have started out as adaptive surfing but with the right support he has been enabled to do it with some independence.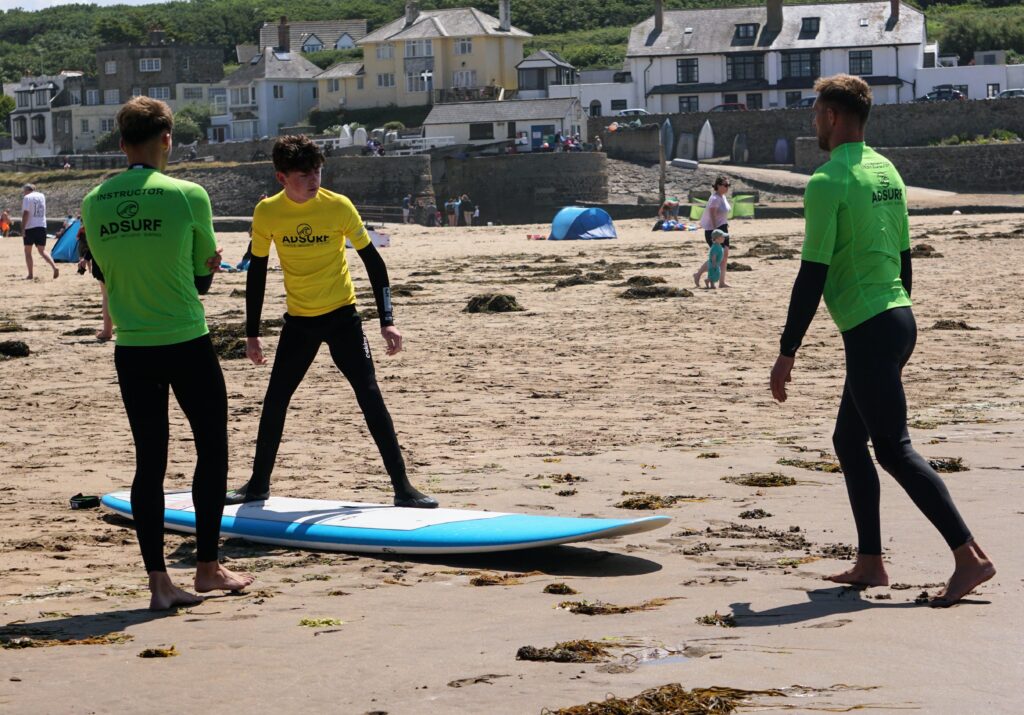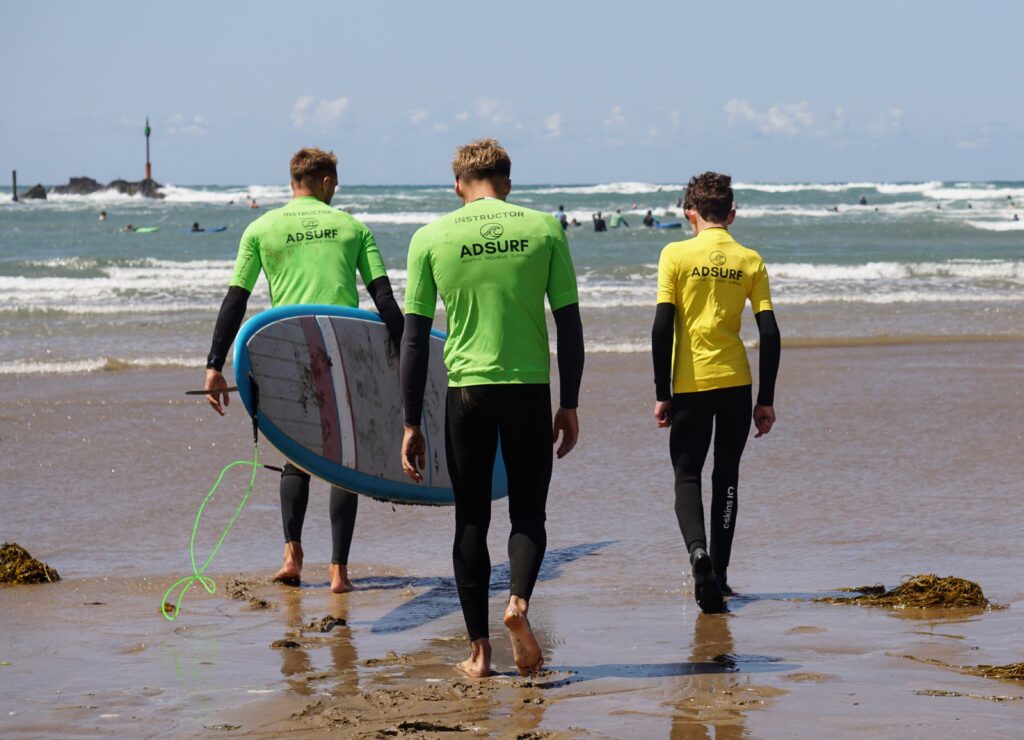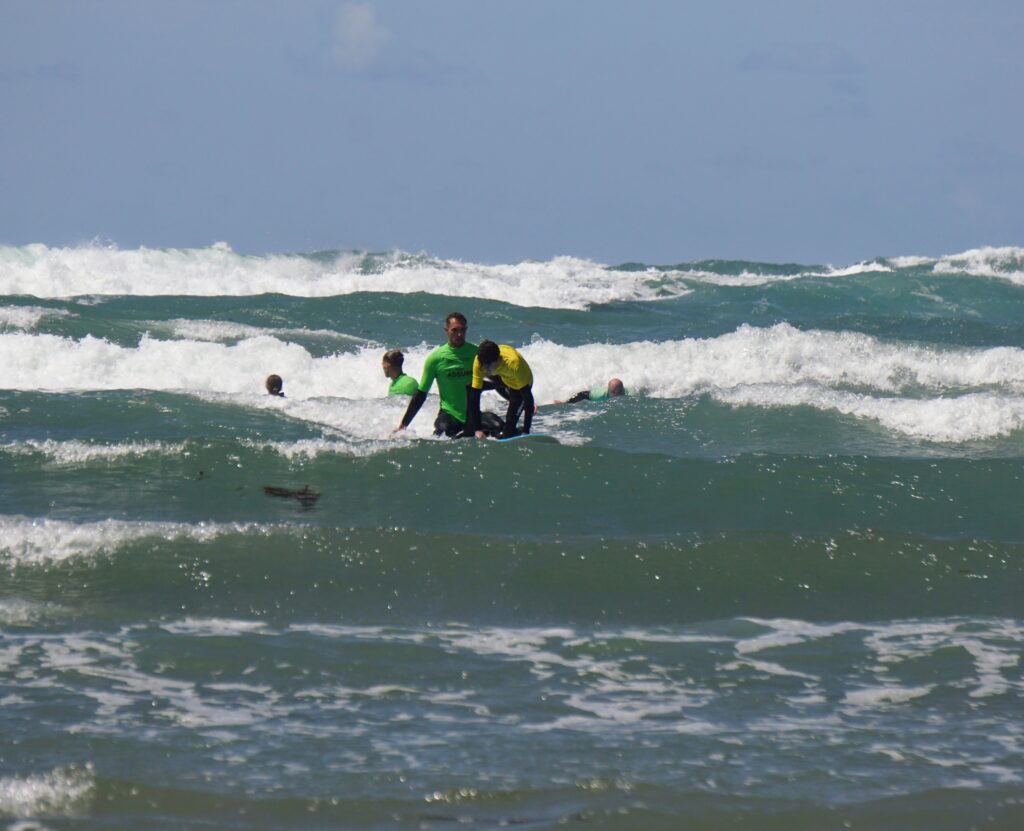 Cyril has been surfing for years and runs his own successful surfing business in Bude.  Through that, he identified the very real need for more specialised adaptive surfing tuition. This applies to people with all manner of disabilities.  He was helped by his equally lovely mum Gill, long term friend Zoe and some enthusiastic volunteers. And so the idea for Adsurf took form and the charity was set up in 2022.  Adsurf is based in the North Cornwall town of Bude. It receives a great deal of support from the local community. As such, they can offer supported coaching to individuals with all manner of disability.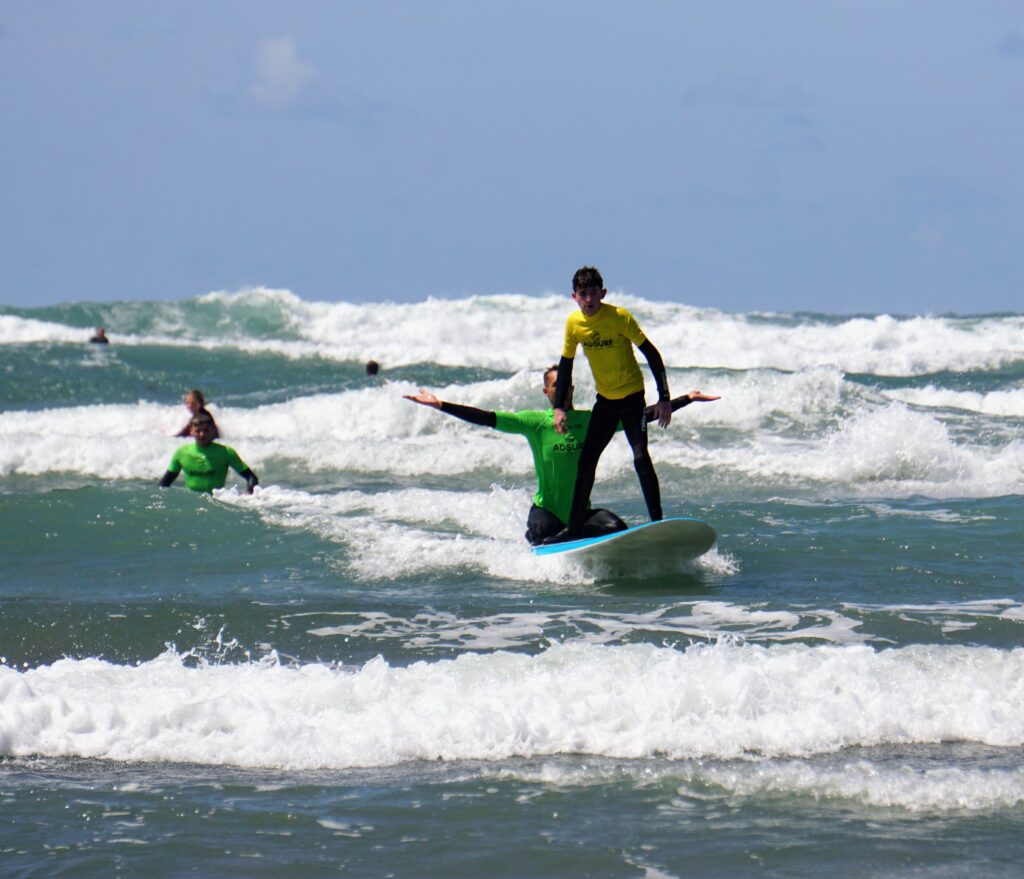 They have recently taken possession of a surfboard complete with seat to allow clients with mobility problems to take part. Donated by a local business, the seat is similar to that used in racing cars. It is securely fixed to the board and so a user who is unable to stand can have a go. The bucket style ensures that users feel secure inside. The charity have a range of different padding they can put in to ensure adequate comfort and support.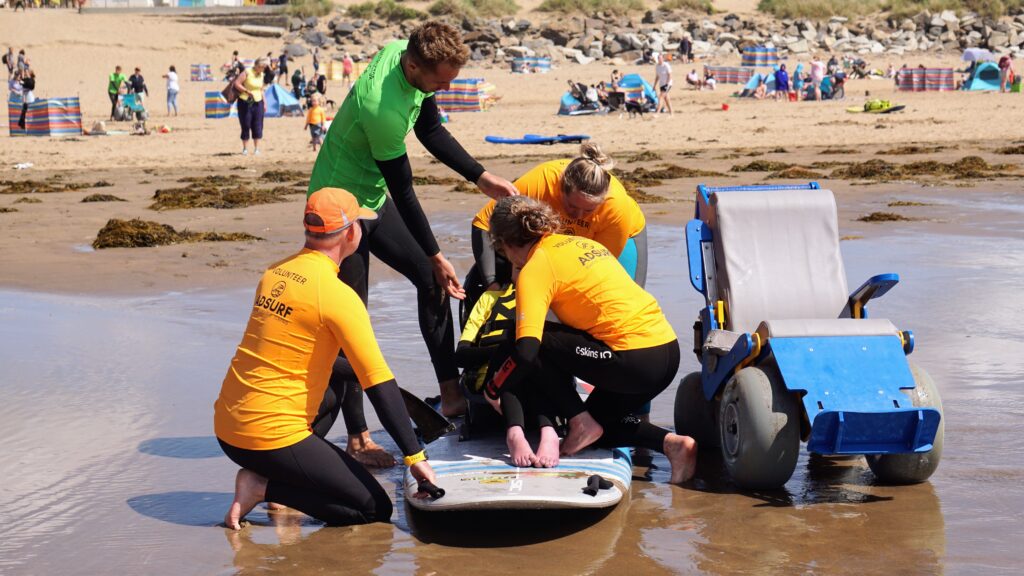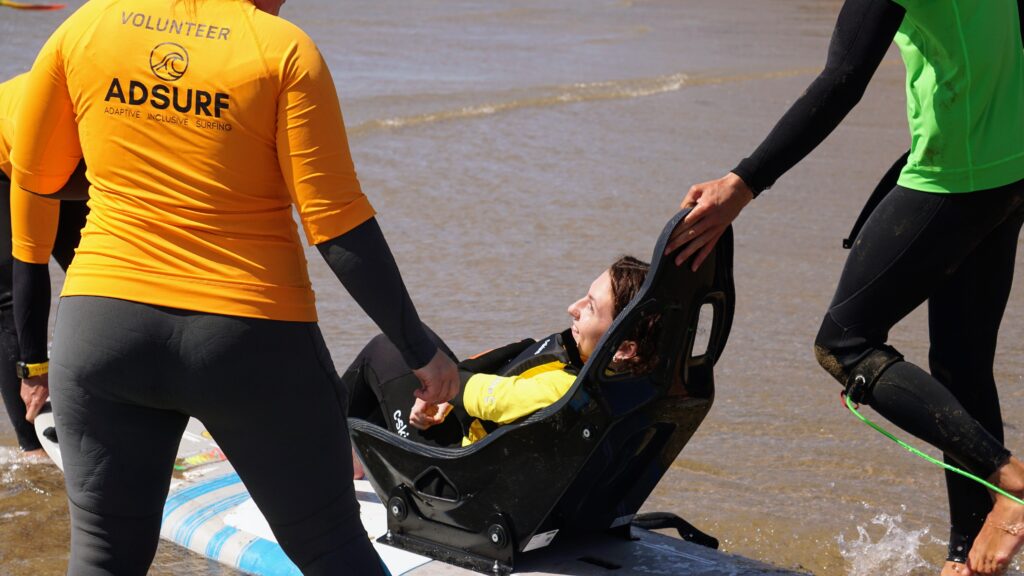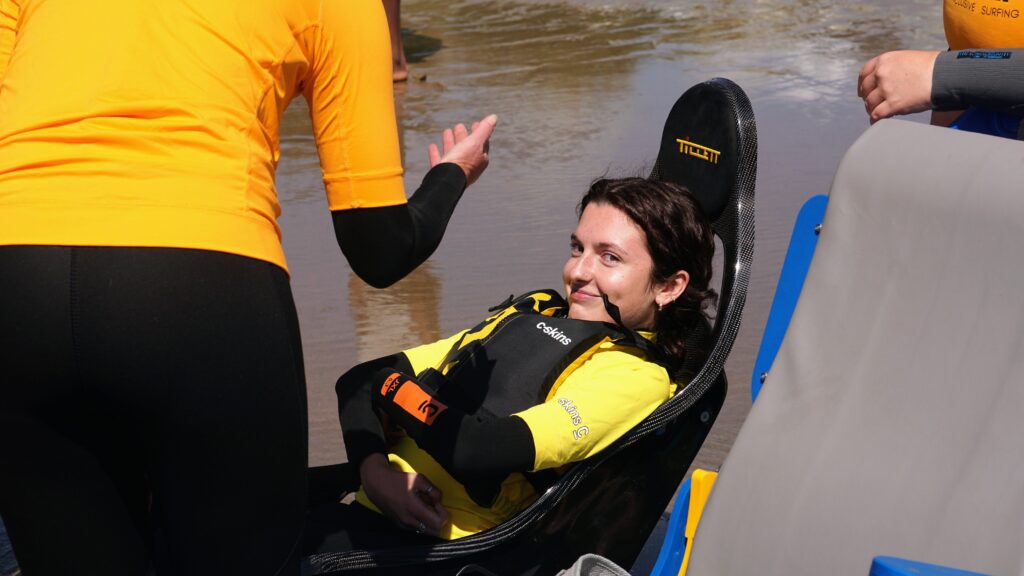 Clients will have as many supporters as they need to ensure their safety and enjoyment. A client using the seated board will of course have an instructor. They will also have two or three other volunteers to lend support whilst in the water.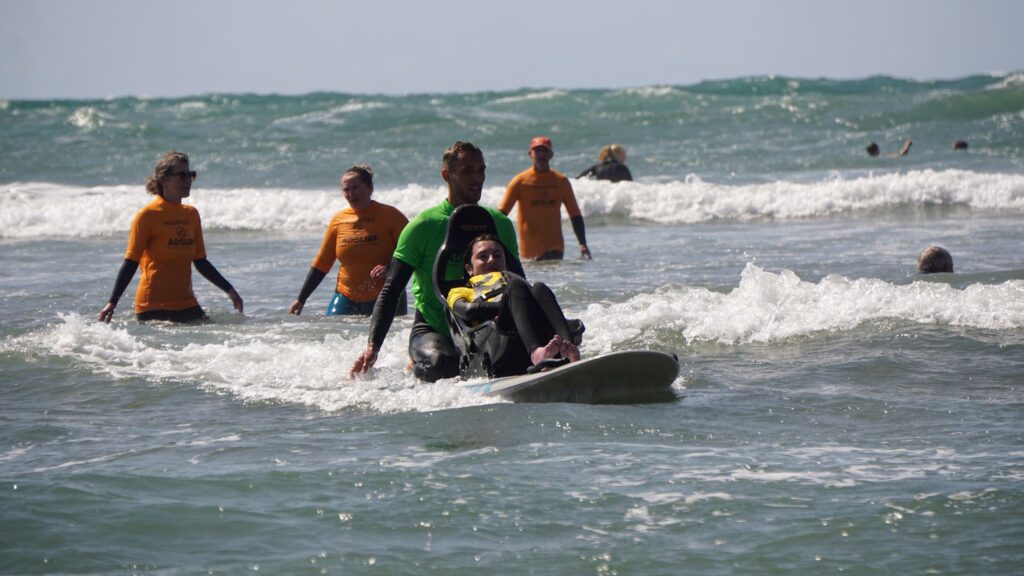 The charity is perfectly located just at the entrance to the beach, directly opposite a number of blue badge parking spaces. They have their own fully accessible hut with a hoist to enable easy transfers in and out of the chair. There is also a Changing Places changing room next door.
For clients with mobility problems, they have their own beach wheelchair to facilitate easy access to the beach, The team also look after some of the council owned chairs, so there will always be one available.
So, what of Molly? Well, after a lot of persuasion she eventually decided to give it a go and….. thoroughly enjoyed herself! Similar to many recent teenagers, she can often be somewhat reluctant to admit that she MAY have been wrong. However, the laughter and smiles said it all. It was a great day, with Stan having his lesson first and managing to get to his feet in spectacular fashion while she watched. Then it was her turn and after lots of fun getting her into her wetsuit (Not the easiest thing when you are in a wheelchair!) she was down on the beach. Amid lots of laughter, the team made sure that she was comfortable and felt confident before going in the water. Then, with Cyril sitting on the back of the extra-large board, they started catching some waves.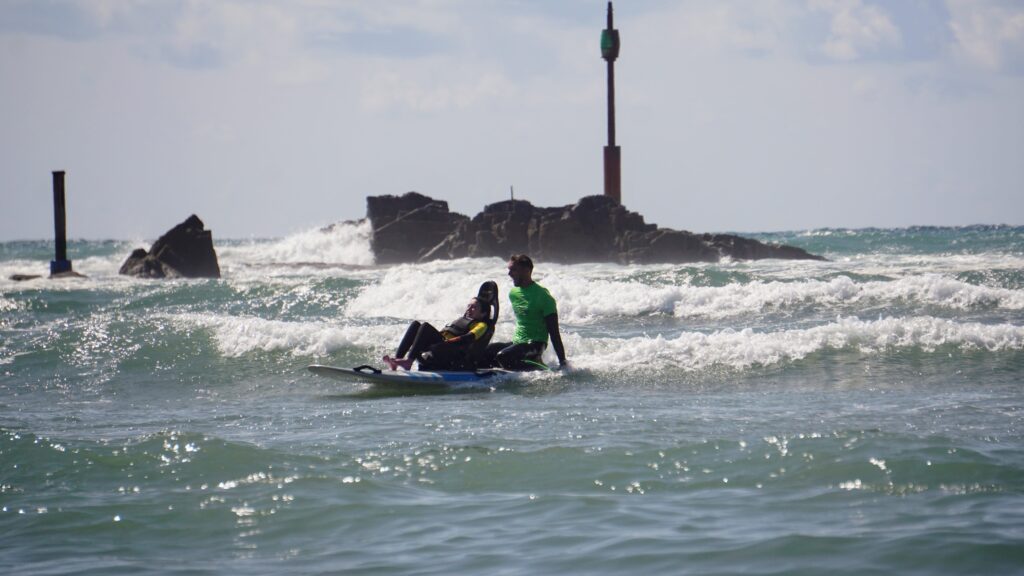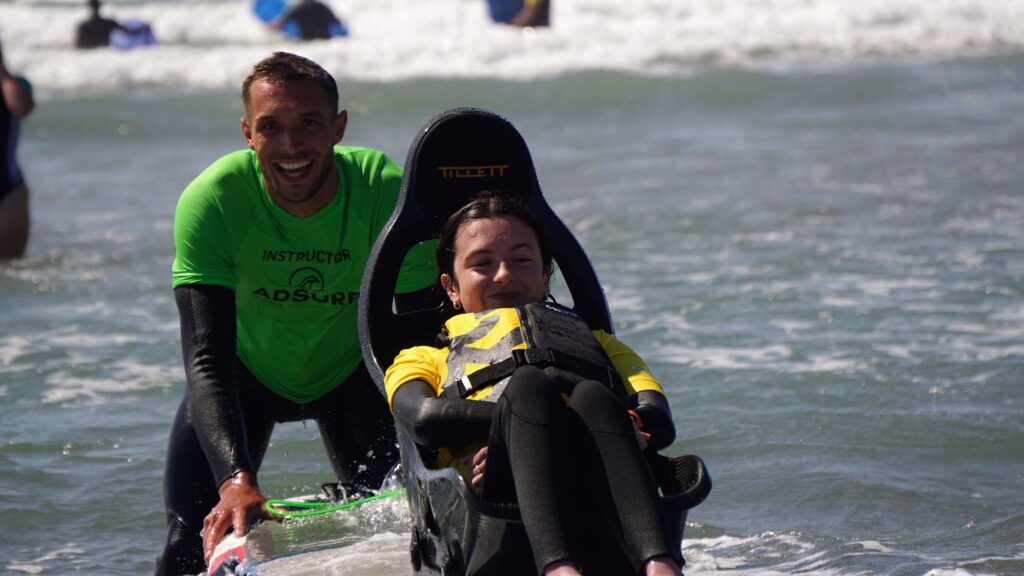 Adsurf are doing a fantastic and valuable job and have covered all the practical bases to ensure they can cater for many different requirements. But they are not resting on their laurels and are constantly looking for ways to improve what they can offer.
However, the key thing about this charity is undoubtedly the people behind it. They are warm, friendly and genuinely caring, while they all take time to really understand everyone who comes along. They then tailer the lesson accordingly. This in turn inspires confidence in the water, a sense of achievement and a great deal of fun. Next time you are in the area, I thoroughly recommend giving them a call and having a go!
For more details please visit https://awheelandaway.com/portfolio-item/adaptive-surfing/
For more information about accessibility in Bude please visit https://www.visitbude.info/accessible-bude/