Accessible travel on the High Coast of Sweden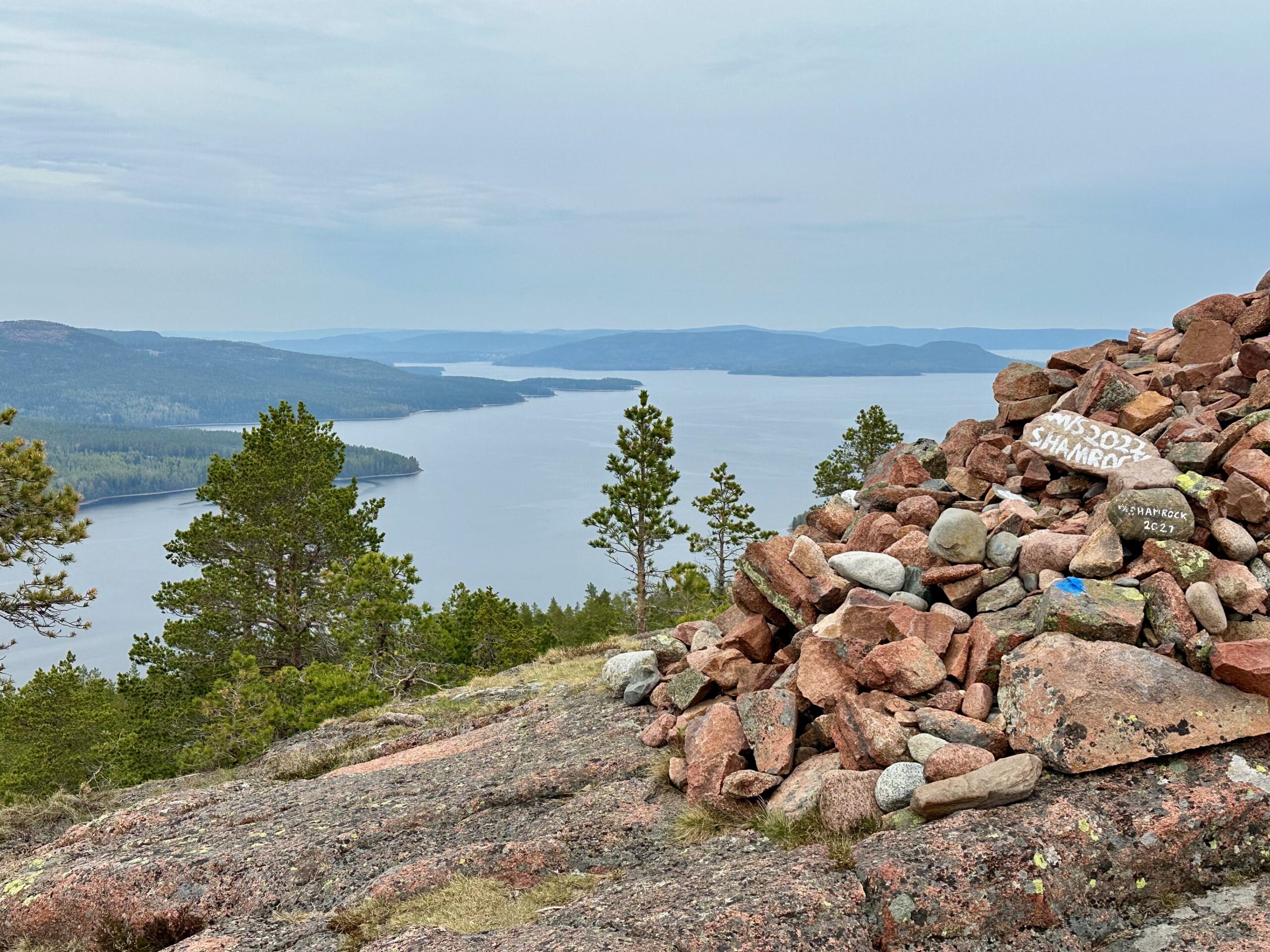 The High Coast of Sweden is a surprising candidate for an accessible destination.
As the epicentre of the last Ice Age, the three kilometres thick ice that covered the area has created a fascinating landscape. With the pressure released as the eighty thousand tonnes of ice have melted, the land is slowly rising to make the highest coastline in the world even higher. At 286m above sea level this UNESCO World Heritage Site offers spectacular views of the extensive archipelago in the Gulf of Bothnia and is an incredible destination to visit.
The population of Sweden is just over ten million. Compare that to the sixty-seven million who live in the UK and it is easy to see why the country, almost twice the size of the UK, offers vast potential for finding untouched spots. Coupled with that is the fact that seventy percent of the country is covered with forest. It also has more islands than any other country in the world, around 270,00. Add all these factors together and you will start to gain an understanding of how easy it is to find absolute peace here.
However, for the traveller with a disability a lot of these facts will seem like a red flag. Nature and accessibility issues do not often make good bedfellows. Rural destinations are not traditionally the best options for individuals who use wheelchairs. But as a relatively new destination on the international tourist market, the High Coast region is keen to maximise its accessibility and ensure as many people as possible can visit this stunning region.
Here, visitors can go up mountains, trek through National Parks and sail between many of the different uninhabited islands that pepper the coastline. This applies to all, with great care having been taken to ensure access is considered at all times.
The first and most refreshing point of note is the attitude of everyone towards overcoming accessibility obstacles. It is not viewed as an add on or a box that must be ticked, simply as a fundamental part of everyday life. In fact, when talking to one fellow traveller about it, I was greeted with a quiet incredulity that it should even be an issue. Such is the normative approach to disability here.
So, with that in mind, what is there to do in the High Coast of Sweden?
Explore the natural surroundings
The natural landscape is clearly a huge magnet.
Firstly, the Skuleskögen National Park is absolutely worth a visit. Imagine the magical forests of storybooks, where trolls and spirit people roam and that will give you a sense of the atmosphere here. Maybe you will meet a 'huldra' a forest nymph, as you take time out to explore your surroundings.
Being outside in nature is an elemental part of any Swedish upbringing. Children in Sweden grow up on stories of the mythical creatures that live in the forest. These can now be recreated here through the unique Spellbound in Sweden experience. Renowned Swedish author John Ajvide Lindqvist has written this fascinating piece of interactive storytelling. This chilling story enables visitors to don their headphones and completely immerse themselves in Swedish folklore in the middle of the forest. Go with it, just relax and indulge all your senses, allow yourself to be a little bit scared…
The park offers fantastic walks for all abilities. Access is great, with many designated accessible routes allowing wheelchair users to explore the forest and the small bays that edge it. For example, the West Entrance offers a wide boardwalk which ventures two hundred metres into the forest to a wide viewing platform. Visitors can take advantage of the provided seating and enjoy the vista. Explore further by continuing along well-maintained gravel trails. Perhaps take food with you and have a picnic or use one of the grill huts to enjoy a barbeque.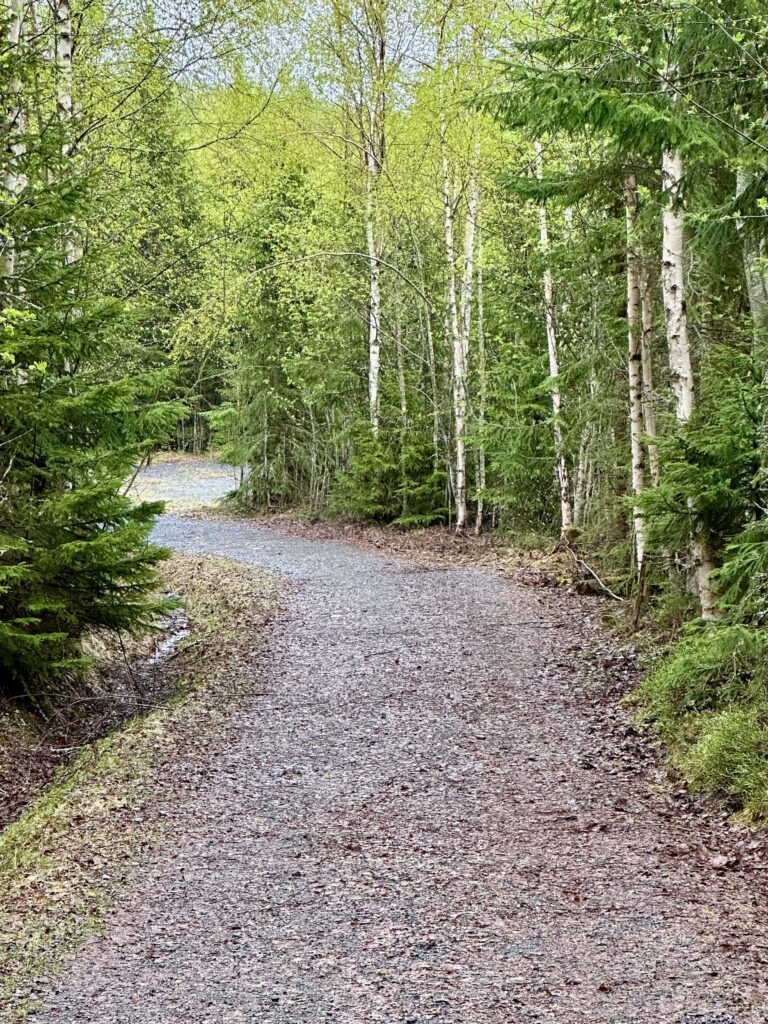 Go solo or use a guide?
While it is perfectly feasible to explore on your own, the use of a local guide only enhances the experience. Our guide was able to explain much of the fauna and flora that we encountered. He was also able to introduce us to tracking, through identification of the animal droppings we found!
Witness 10,000 years of change
Visiting Naturum, only 10km from the park, is a must do to really understand the unique history and geology of the area.  It offers a detailed and fascinating introduction to the geological processes that shaped this landscape.  The whole centre is on one level with many colourful and interactive displays, making it accessible to all and of interest to younger visitors too.  Staff are knowledgeable and passionate, as well as being able to offer informed advice about all accessible vantage points within the park.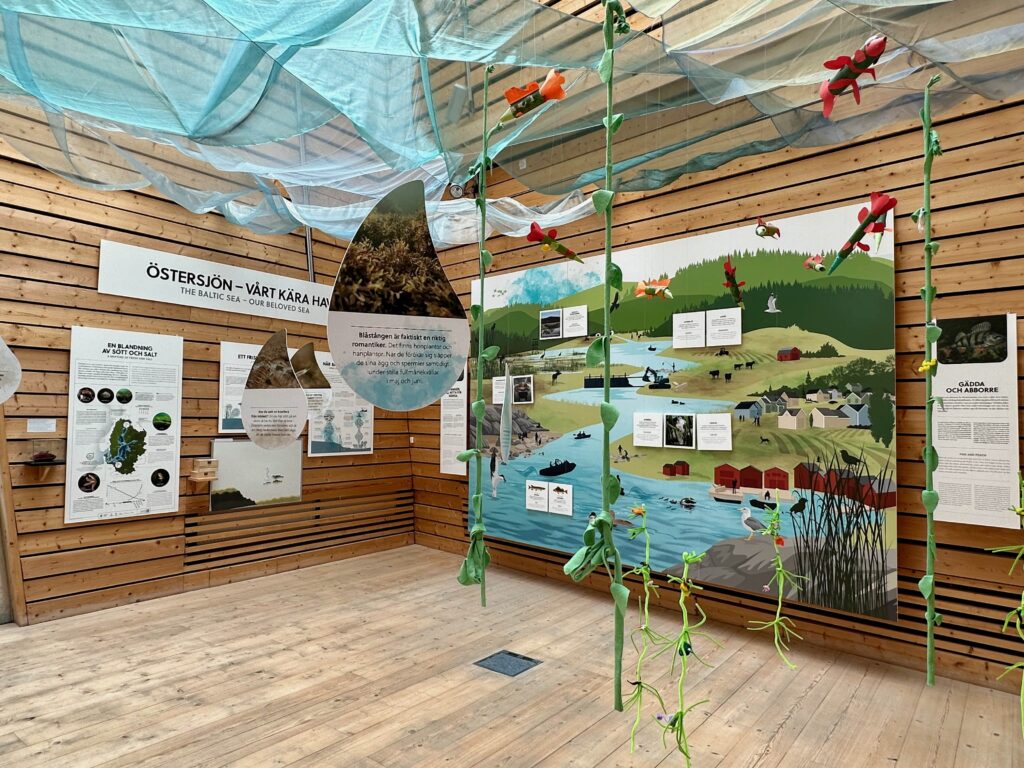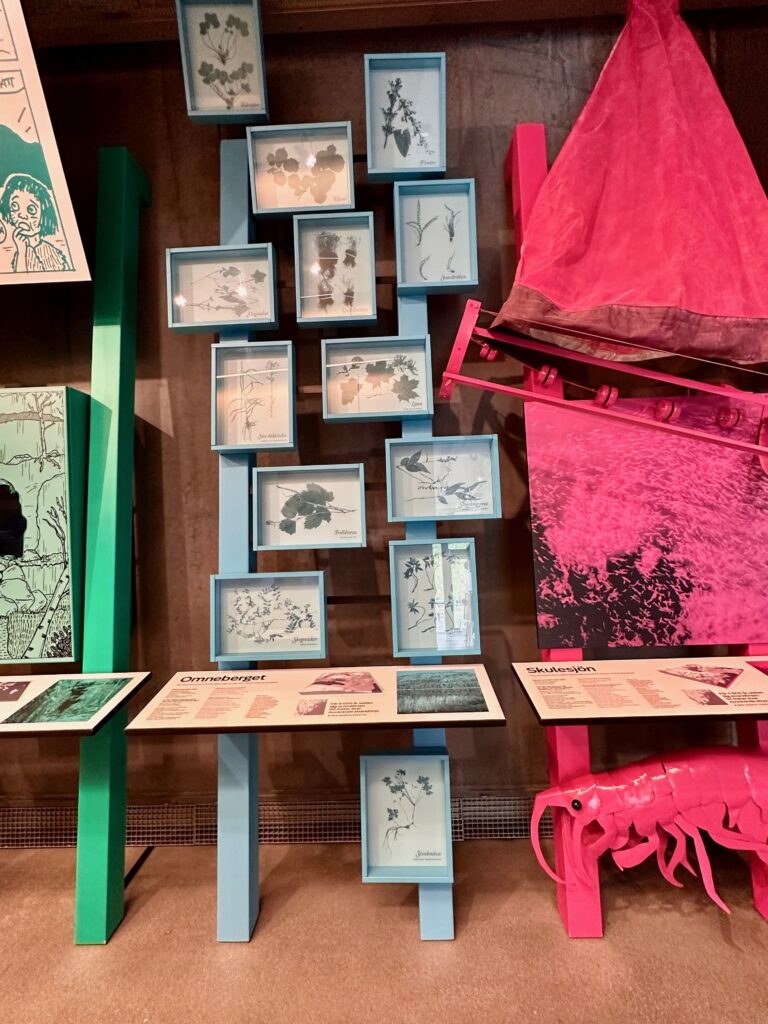 One such bit of advice was about visiting Skuleberget, the mountain at the centre of the region. Ten and a half thousand years ago it was only a small island. Now it is the highest peak in the High Coast. It offers amazing views from the top over the sea and the whole region. Visitors can take a cable car to the top where they will find a wheelchair accessible path, allowing everyone to take advantage of the incredible views.
Visit some of Sweden's many islands
Besides the forests and mountains, the region is blessed with some wonderful islands, the most noteworthy being the Ulvön Islands. North Ulvön, the larger of the two and the only inhabited island, is dreamily beautiful with wooden houses and stilted boathouses on the water's edge. There is a sense of utter tranquility here. With only forty permanent residents and a mere smattering of cars, it is a popular place for visitors looking for absolute relaxation.
As we walked along the street of the main town, we didn't see a single soul. Not unless you include the one car which went past, one of the three on the island as our guide wryly commented. Many Swedes have holiday homes here and come to while away their time in the idyllic setting. The islands were once Sweden's largest fishing community. Nowadays, visitors can see the traditional wooden fishing nets laid out along the shore. The small museum on the island, dedicated to the lives of the fishermen of yesteryear also offers a glimpse into the history. Wheelchair users can access via the ramp into this or down the slope into the lower part.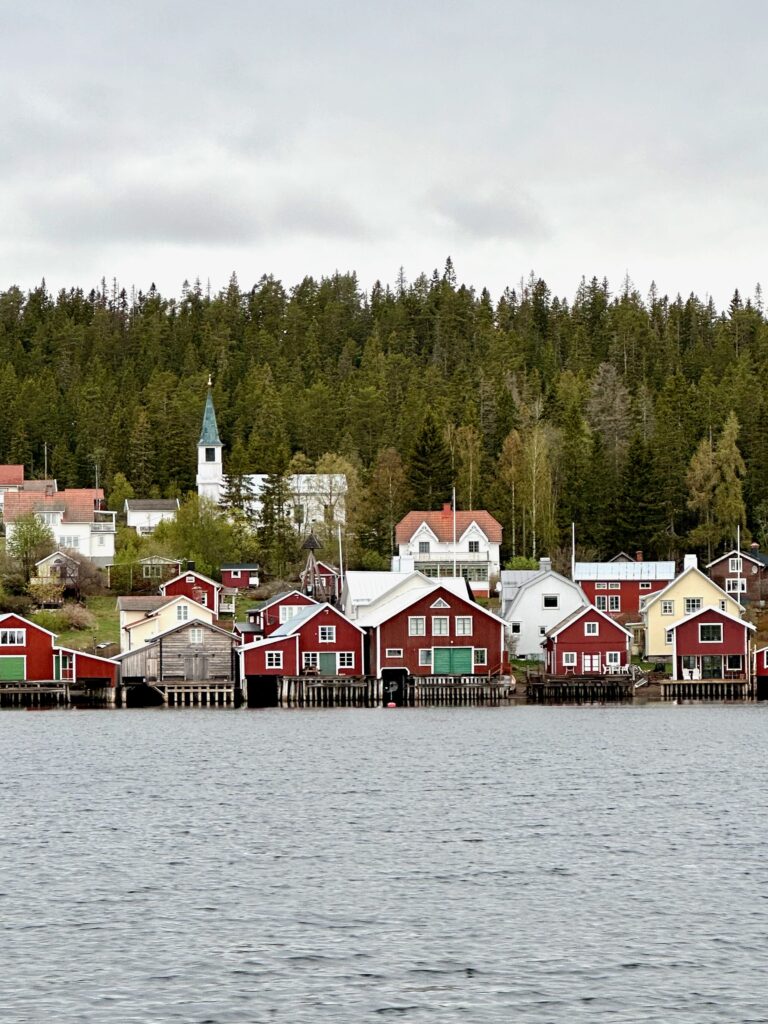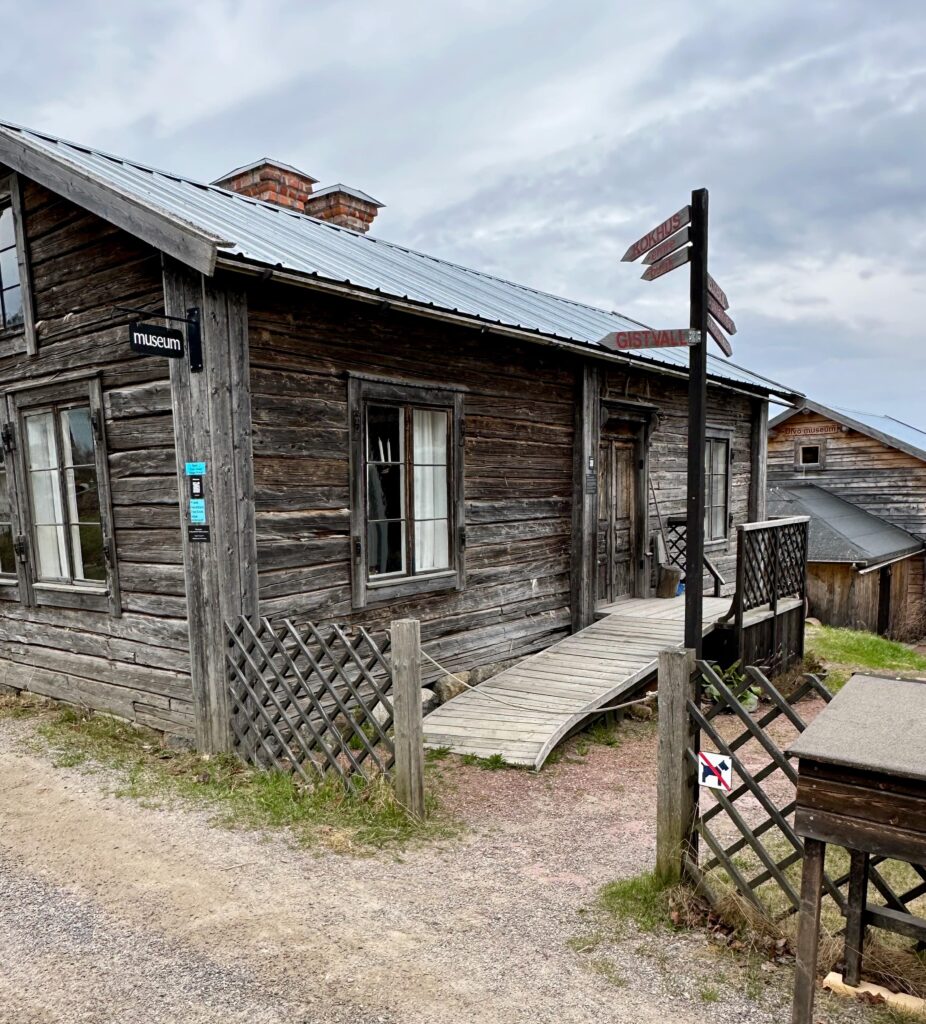 Indulge your culinary curiosity
North Ulvön is also the source of one of Sweden's most notable and divisive dishes. Surströmming is fermented herring, originating from times when people had to preserve the fish for as long as possible. Countless clips on social media sensationalise the so-called 'smelly / rotten fish' with all manner of advice about how to prepare it.
But our chef at the Ulvö hotel dismisses all these as hype and quietly shows us the correct way to do it. There is a definite and distinct aroma, which is not particularly enticing. I will confess to being a bit apprehensive but am intrigued as he loads it on to flatbreads on top of fil, a type of Swedish yoghurt, along with salad and dill. Served along with a shot and a beer, I can't help thinking that this is some form of reward for trying it. However, I am pleasantly surprised by the taste and find myself going back for more.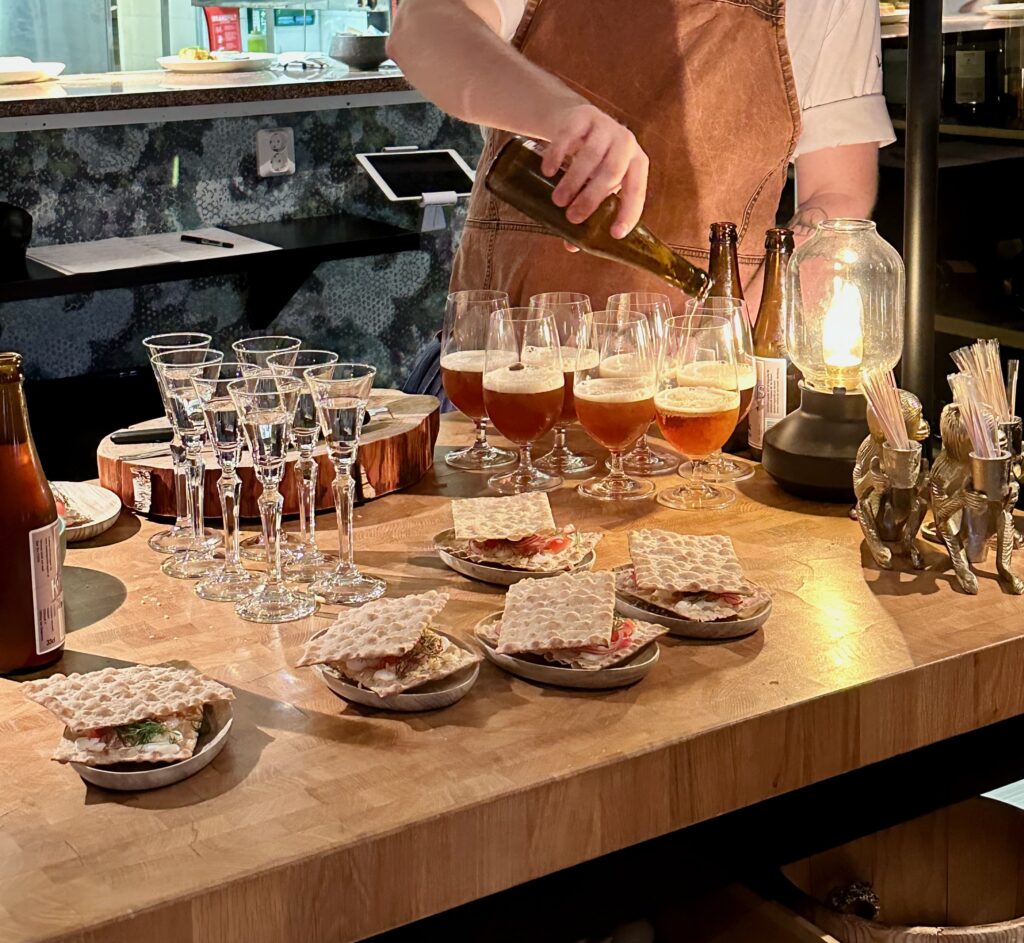 While on the theme of edibles, it would be remiss not to mention a few wonderful businesses which are based in the region. They deserve an article all to themselves but there are a few which really stand out.
Mjalloms Tunnbrod is the oldest baker of Swedish flatbreads, dating back to 1923. Hernö Gin is an award-winning distillery, with its Old Tom being voted the best in the world two years in a row at the World Gin Awards. It offers a range of gins, each with their own story and the opportunity to enjoy them in beautiful surroundings. High Coast Whisky is similarly award winning and offers fascinating guided tours around the distillery. For the true afficionado, it is even possible to attend a week long course about how to make whisky. All these businesses are open to the public, accessible to all and allow visitors welcome opportunities to try out the produce!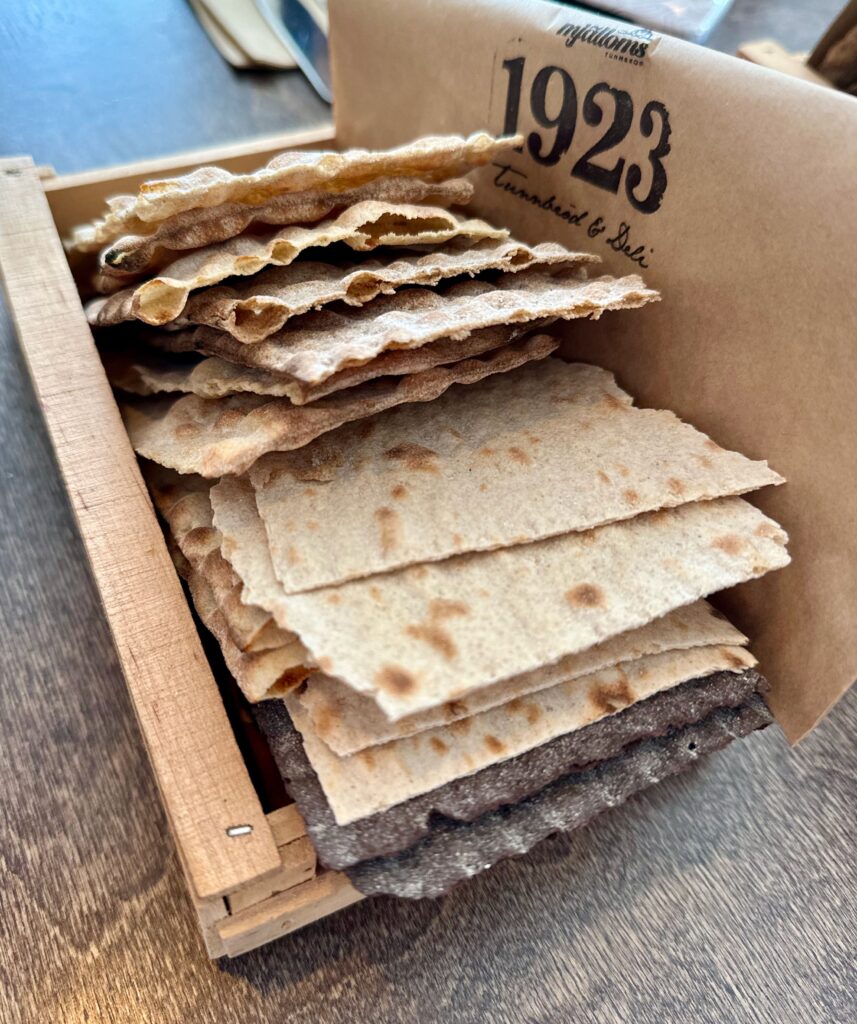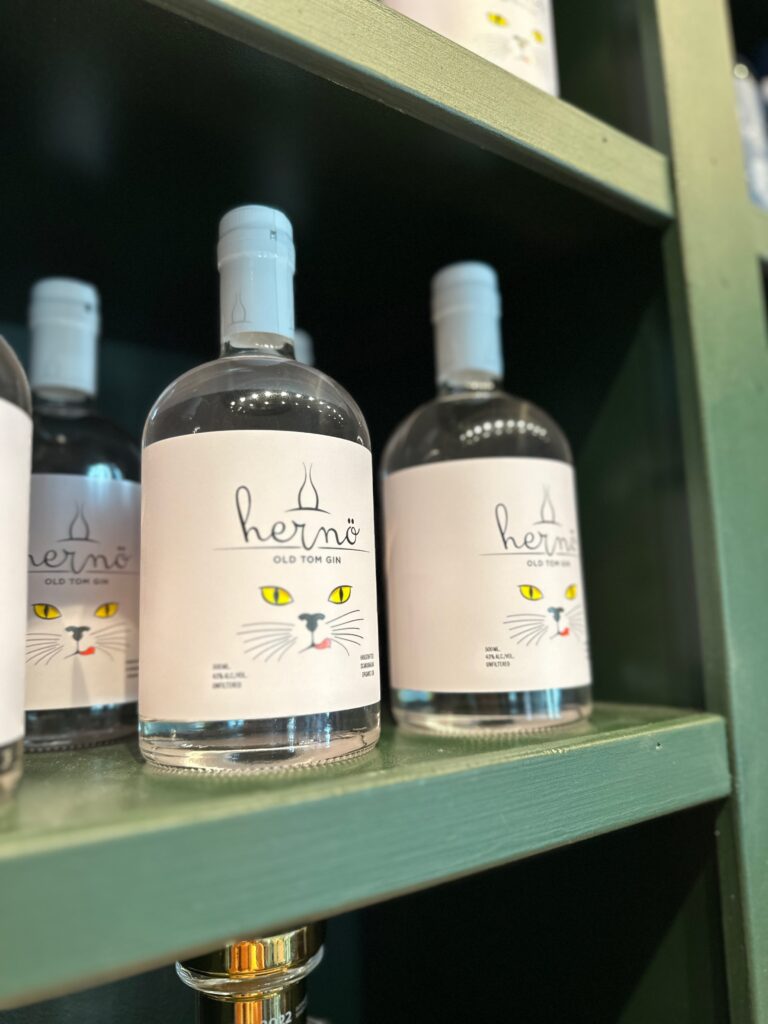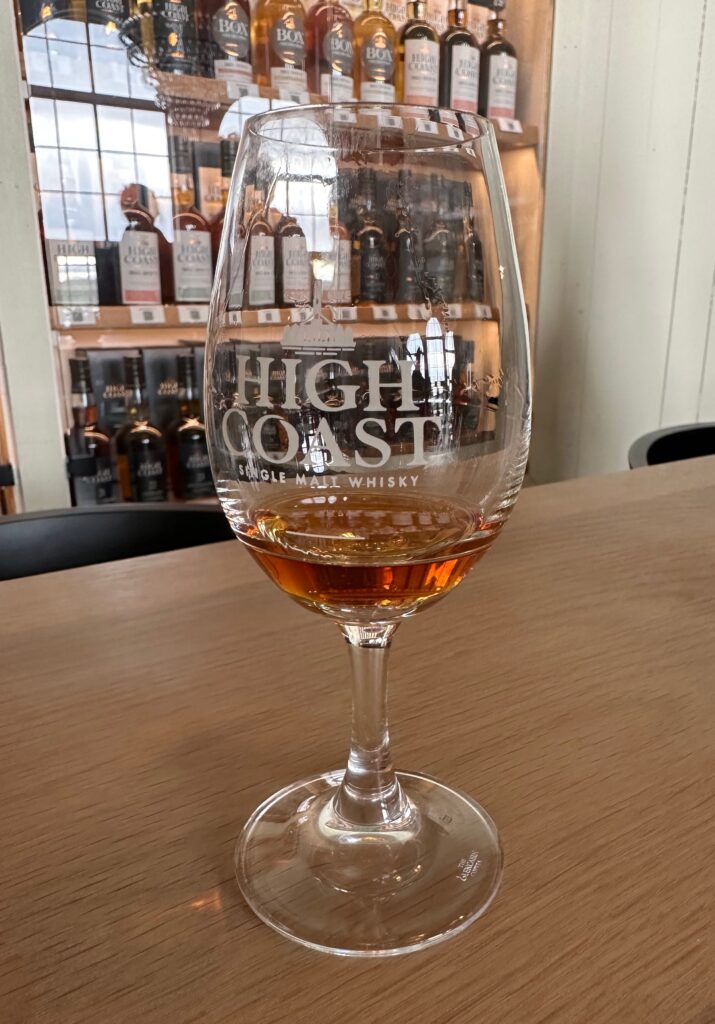 See the legacy of a creative life
If you are looking for something a little quirky, a visit to Mannamine should be high on your wish list.
Created by the artist Anders Åberg, this place is not like anywhere I have ever visited. The thinking behind the site is beautiful. Realising that not everyone could afford to travel, Åberg decided to bring the world to the people. In doing so, he created this mesmerising place as a project of passion over many years.
There are fifty-three buildings, all of which are completely different. They share only one thing in common. Each houses examples of Åberg's incredible creativity, with every single piece (and there are hundreds) having been created by him. You can view the gigantic globe which rotates slowly, powered by a bicycle wheel. You can play sailors in the boat which is a house. (Or is it a house which is a boat…?). Marvel at the unrelenting talent in every single piece, from the tiny people to the huge skyscraper. Seventy percent of the site is fully accessible. But in all honesty, the sheer size of it means that to see it all properly could take days. Taking that into account, there is more than enough to warrant a visit for both big and little kids.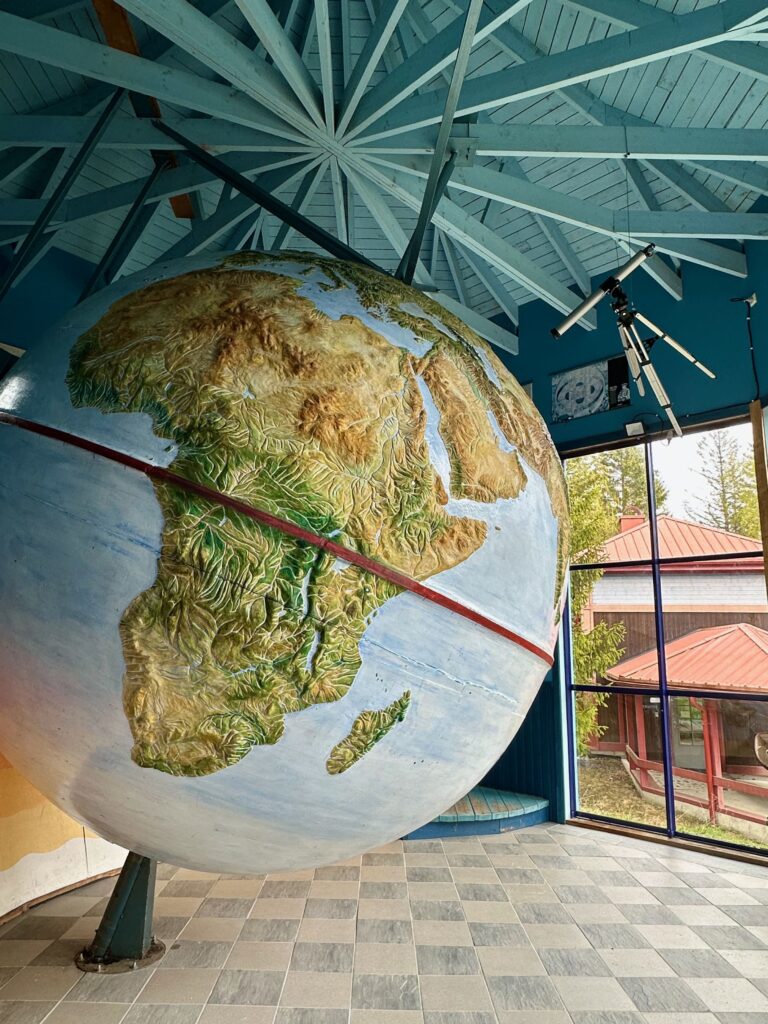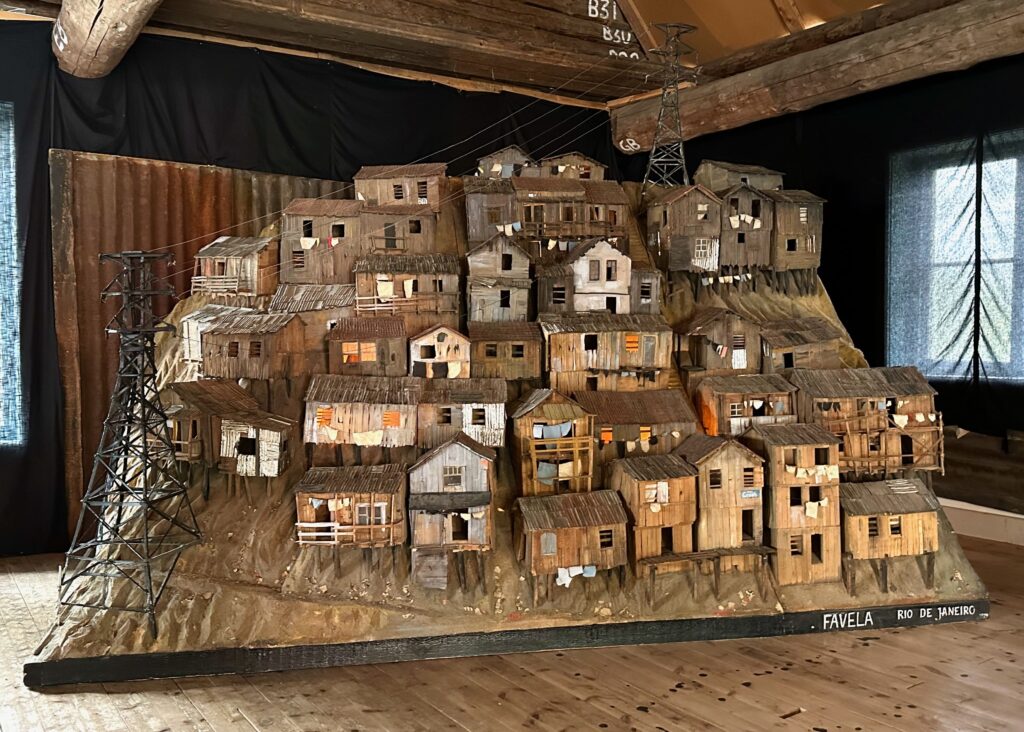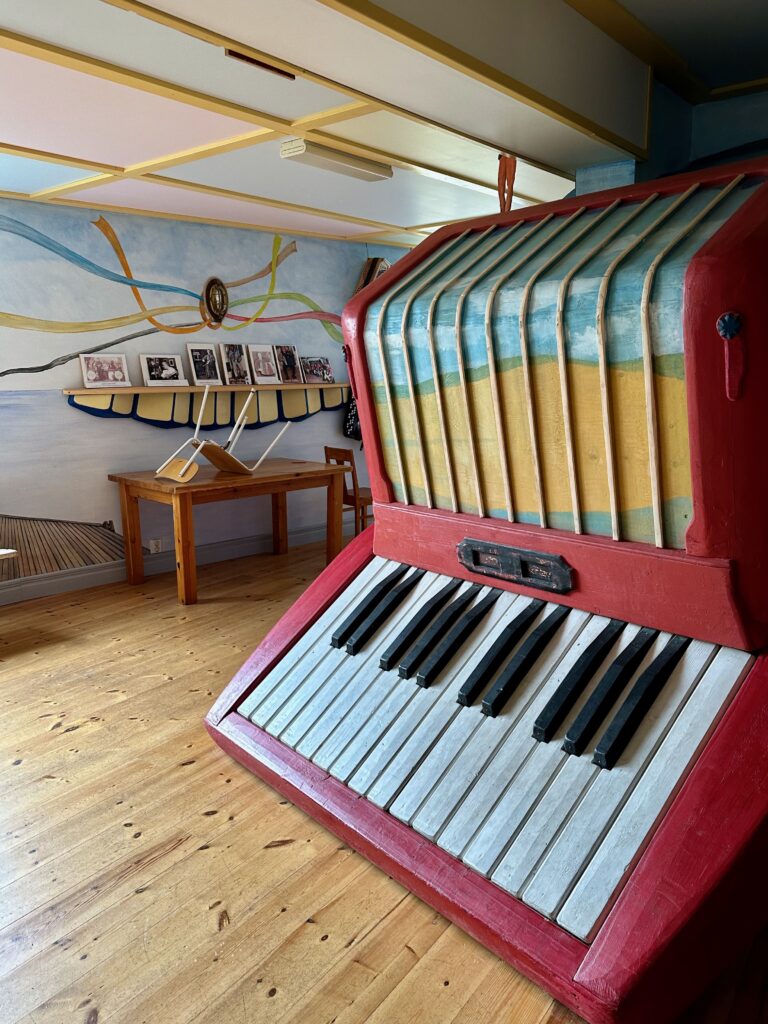 View striking architecture
My visit ended with a trip to see the High Coast Bridge or Högakustenbron. This is Sweden's longest bridge and is a striking piece of architecture. It looks especially good come the evening, when the light catches on its red metalwork structure, making it glow. There is talk of building a restaurant on the very top of this suspension bridge. Should this happen, it would provide dizzying views for those brave enough to eat there. It would certainly make for a memorable meal!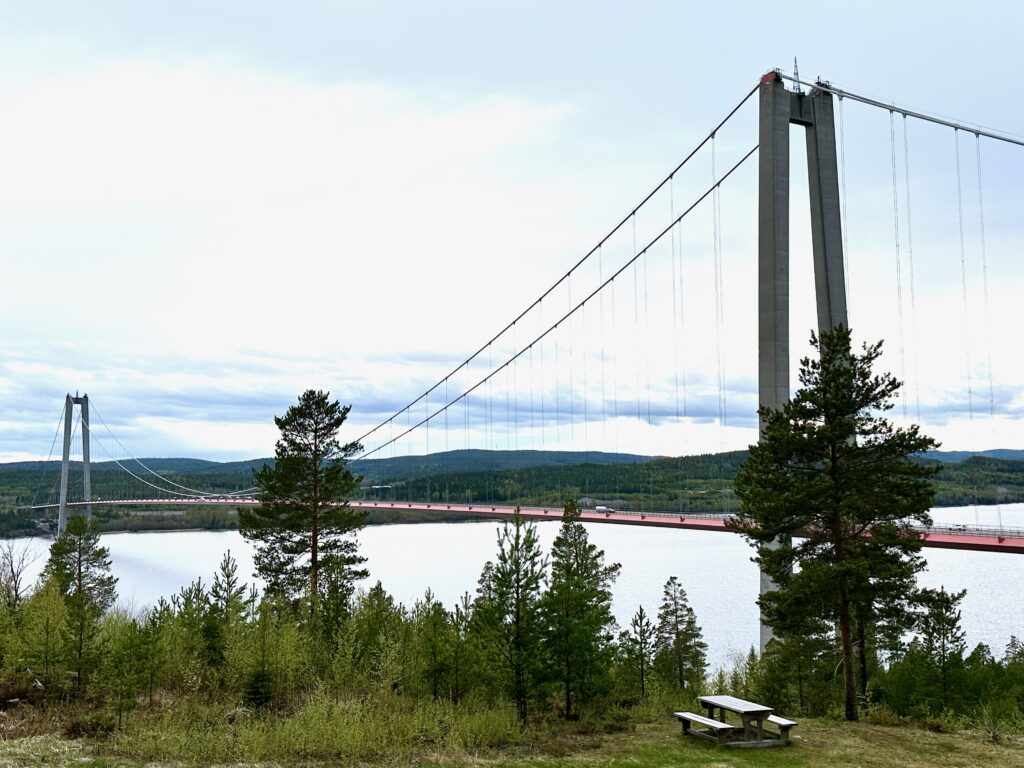 How accessible is it?
Throughout my visit to the region I was consistently impressed with the accessibility. Everywhere I visited reflected a solid consideration of the needs of all visitors that is not always found. This was across the board, whether looking at places to stay or things to do. And, even more, I encountered a willingness to listen, to make changes where necessary, in an aim to continuously improve.
So, in summary, why visit the High Coast of Sweden? Firstly, there is beauty in abundance. Whether your preference is for mountains, forests or coast there is plenty here for everyone. There is the opportunity to delve deep into the fascinating history that makes this magnificent landscape unique. Foodies will be in heaven with delicious food and drink, all using local ingredients and prepared with skill. You can indulge your playful side and be wowed by incredible artwork.
Whether you come on your own, as a couple or as a group, this a place where you can truly relax. No more the well-trodden paths with hundreds of tourists. The High Coast offers a spectacularly beautiful, luxuriously indulgent and utterly tranquil escape for all members of the family.
So do yourself a huge favour and make sure that you add this to the top of your wish list for future travel. You will be forever glad that you did.
To read more detail about the places mentioned in this article please take a look at:
Naturum: https://awheelandaway.com/portfolio-item/naturum-high-coast-visitor-centre/
Try Surströmming: https://awheelandaway.com/portfolio-item/try-sustromming-swedish-fermented-fish/
Mjallöms Tunnbrod: https://awheelandaway.com/portfolio-item/mjalloms-tunnnbrod-flatbread-bakery/
Hernö Gin: https://awheelandaway.com/portfolio-item/visit-an-award-winning-gin-distillery/
High Coast Whisky: https://awheelandaway.com/portfolio-item/high-coast-whisky/
For ideas on places to stay or if indeed this whets your appetite to explore more of Sweden visit https://awheelandaway.com/discover/sweden/
If you want to find out more about the Spellbound in Sweden experience please visit https://visitsweden.com/spellbound-by-sweden/
For more information on the High Coast of Sweden please visit https://www.hogakusten.com/en