For Harper and Atticus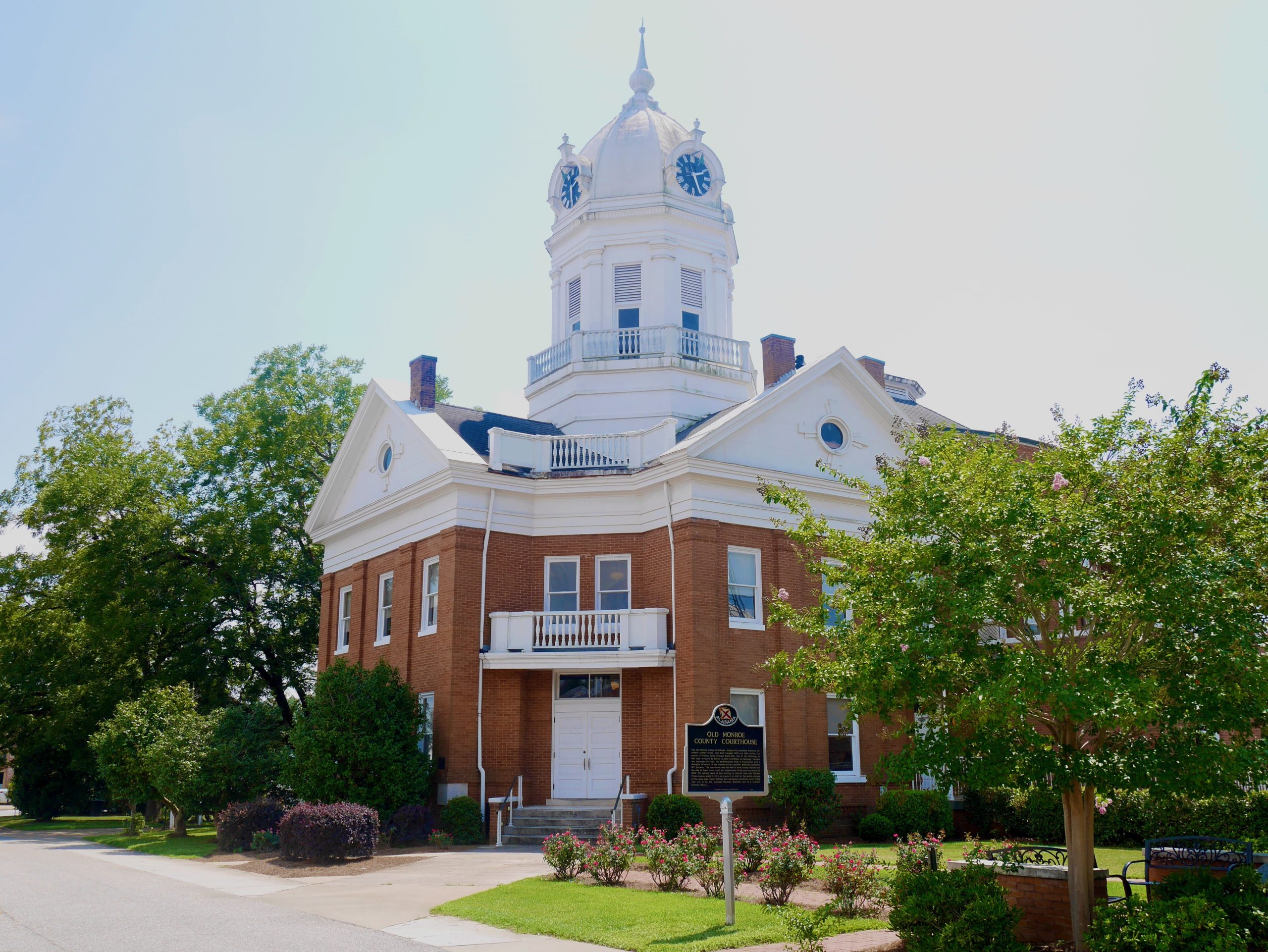 I first read 'To Kill a Mockingbird' by Harper Lee as a teenager and have loved it ever since. So for me it was an absolute that our road trip through Alabama should include a pilgrimage to Monroeville, the small southern town where Harper Lee grew up.
Monroeville is the real life incarnation of Maycomb, the fictional town where the book is based. Visitors to the small Alabama town can visit the actual courtroom in which Harper's father, Amasa Coleman Lee, worked and inspired the young Harper to create the character of Atticus Finch, the lawyer tasked with defending a black man against a community of whites determined to find him guilty regardless. Amasa Coleman Lee did not have a formal college education – he still managed however to pass the Alabama teachers exam and originally moved to Maycomb county to teach. He later went on to read law at the firm of Barnett and Bugg. It was then common for prospective lawyers to enter the profession under the tutelage of other lawyers and Barnett and Bugg provided that guidance for him. He would later go on to become a partner in the firm. He had four children of which Harper was the third and as a child she would regularly go to the courtroom to watch her father at work.
This would have a large influence on her later work, writing the Pulitzer Prize winning novel as well as the later 'Go Set a Watchman'.
It may sound trite to say that the book had a big impact on me growing up. But it is also true, my repeated reading of it helping to form my thoughts about the kind of person I wanted to be. Atticus utters many gems which stuck with me including 'You never really understand a person until you consider things from his point of view, until you climb into his skin and walk around in it'.
So to actually go and sit in the courtroom where it all happened was strangely overwhelming.
Bur before we could get to that we had to find our way in and it was there that the famed Southern hospitality first made it itself known to us. It was a hot day. Seriously hot. The kind of day when just getting out from the air-conditioned interior of our beloved Dodge caravan required a huge effort of will. Arriving outside the museum we unloaded the wheelchairs from the back of the car and helped the children into them before noticing that there was a whole flight of stairs to access the museum.
However, a lovely lady passing by noted our confusion and proceeded to lead us around the side of the building to a ramped entrance. On thanking her, we were told that we were 'Plum welcome' and as Graham offered his hand in thanks, she flung her arms round him, telling him that 'We hug in Alabama' before walking off waving.
(Incidentally, for anyone visiting and needing an accessible entrance who doesn't have the fortune to bump into our new friend, the ramped entrance is to the right of the building if looking at it from the car park!).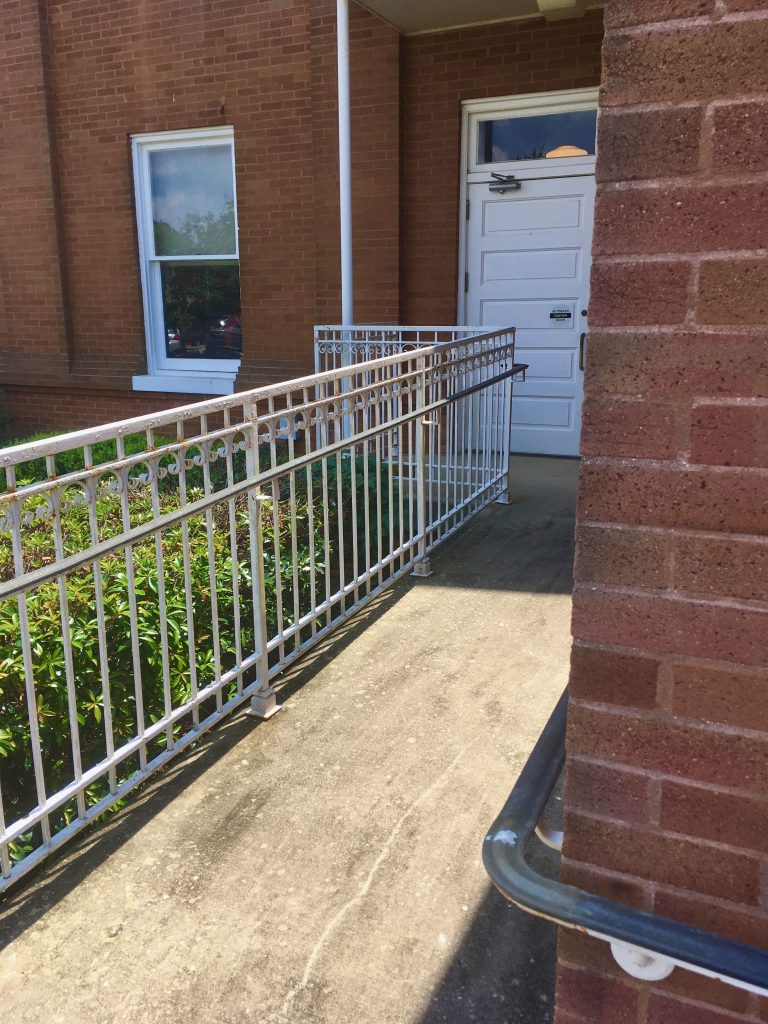 Once inside, the greater majority of the Old Courthouse Museum is accessible to the wheelchair user. The museum is split over three floors. The first houses exhibits about 'To Kill a Mockingbird' and its author, as well as information about Truman Capote, another child of Monroeville who was good friends with Harper Lee. The courtroom is upstairs (There is a lift) and walking in was actually rather emotional. Anyone who has watched the 1962 film starring Gregory Peck can be reassured that the courtroom is a very accurate replication of the real deal. Although not actually filmed in Monroeville, Hollywood set designers did spend a couple of days there, taking all kinds of measurements to enable them to carbon copy it in real life.
For an hour I lost myself. I sat in a chair looking at where Tom would have sat in front of the jury, thinking how he would have felt. I visualised Atticus doing what was right, all the while knowing that he had lost before the trial even began. I could hear the voices of Mayella Ewell, of Heck Tate and see their words inscribed on the court stenographers' book. I could feel the dismay of Scout as she finally began to realise that no matter what a hero Atticus was to her, he could not beat the tide.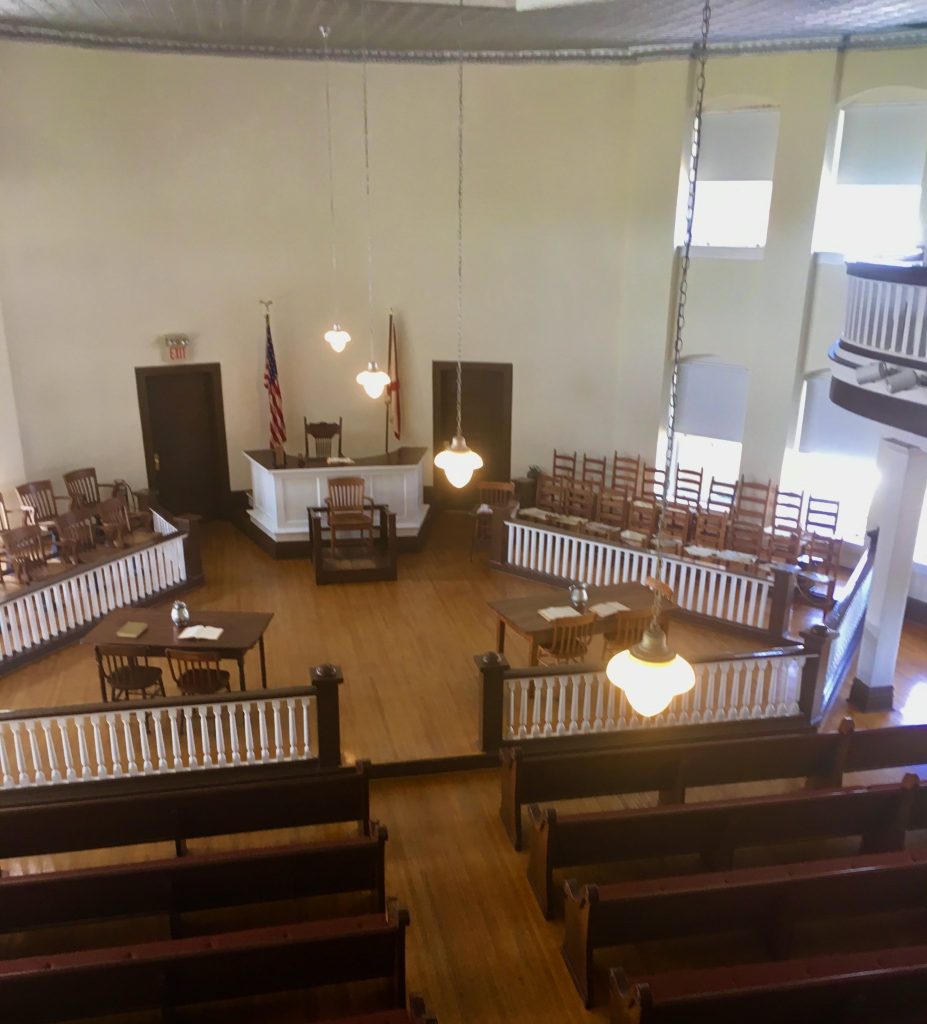 Graham and the children left me to it. Regular readers will know that my daughter in particular is not a huge fan of museums, however I will always appreciate the fact that she let me indulge, just this once! And when I did eventually tear myself away it was to a very special gift. There is a particularly lovely gift shop downstairs, staffed by even more lovely people. And while patiently waiting for me, Graham had got talking to them, only to find out that one was actually the son of the aforementioned Bartlett and thus a close family friend of the late Ms Lee. He very kindly signed a copy of the book for me which now takes pride of place alongside my own very well thumbed copy.
We eventually tore ourselves away and decided to brave the heat and have a look around. Monroeville is a small town but easy to navigate for the wheelchair user with wide pavements and plenty of drop kerbs. Most of the shops and restaurants had easy step free access.
Outside the museum is a small garden and in pride of place is a bronze statue inspired by the novel, of three children reading the book. In fact, this inspiration is in evidence in many places throughout the town including a rather charming mural.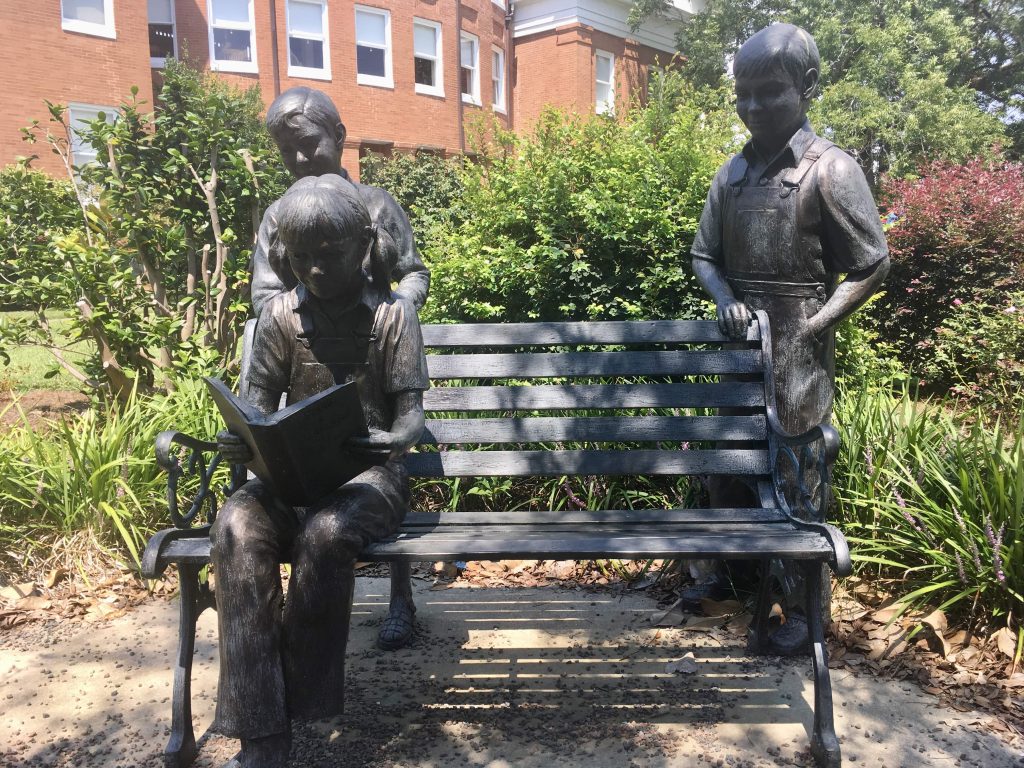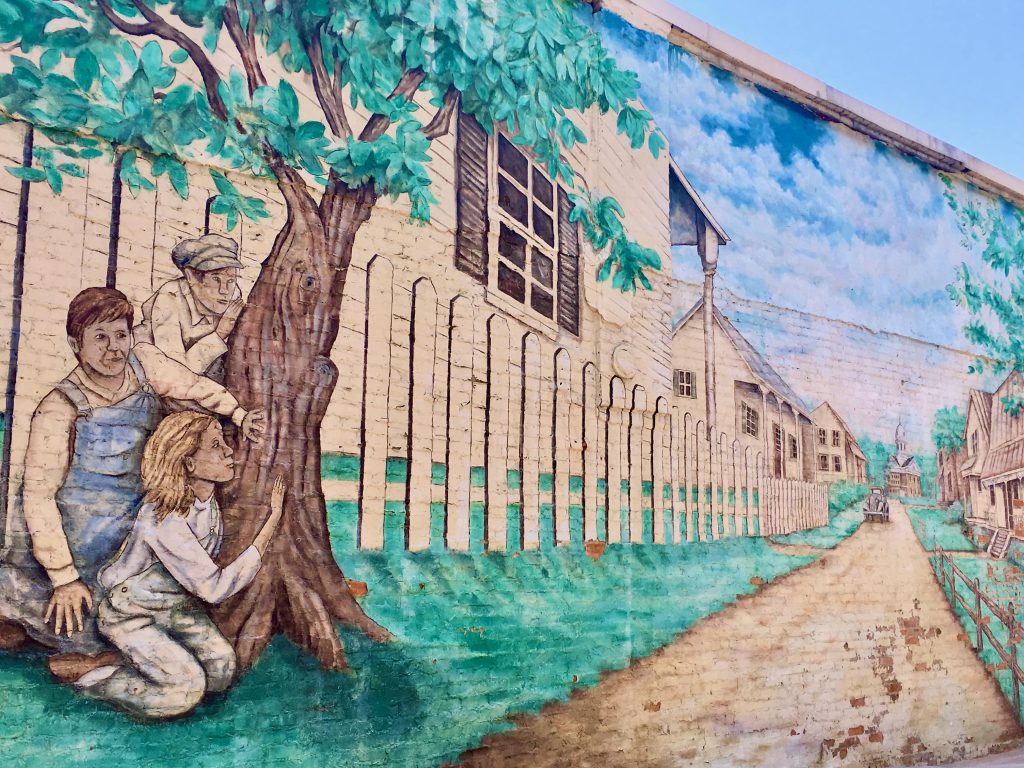 We decided to stop for ice cream at the fabulous Coles café just over the road. Completely accessible and run by a lovely mother and daughter team, the children were particularly enamoured by the various toppings on offer for the ice creams and certainly called in the favours I owed them for being so patient!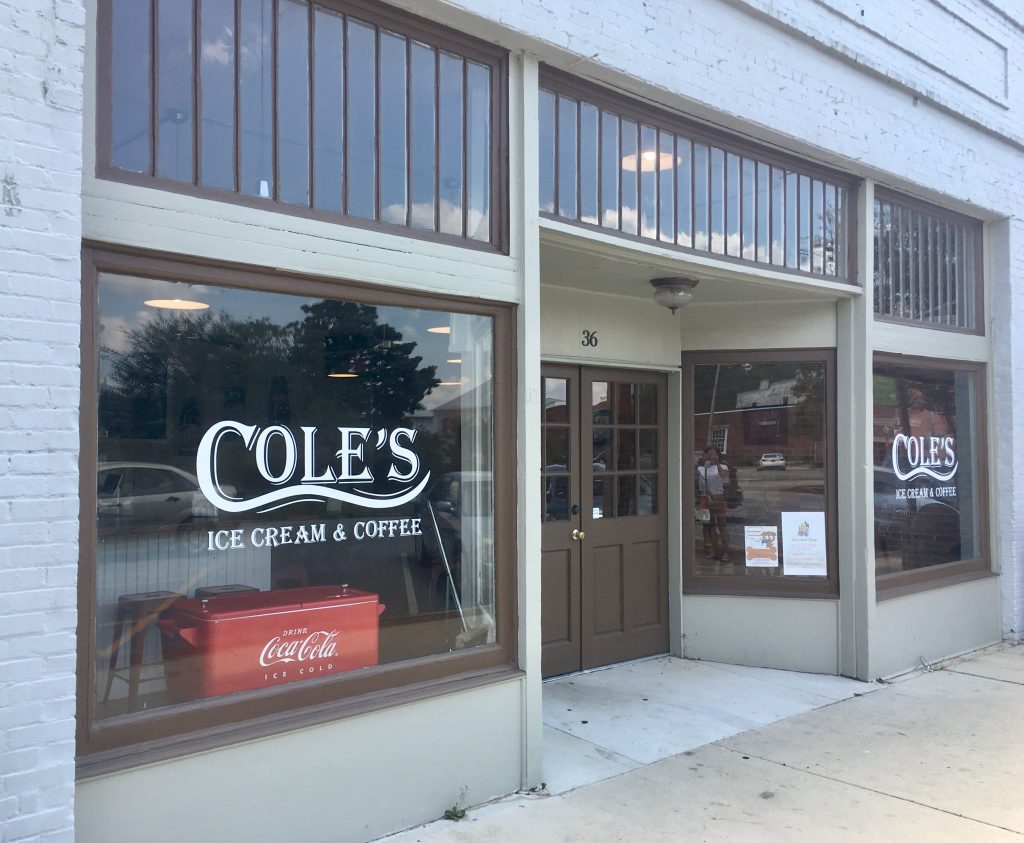 Then it was back out into the heat to find the site of the house where Harper Lee lived. A five minute walk from the museum the house is now gone and a burger bar is now in situ instead. The lengthy walk(!) had necessitated an ice-cold drink after which we returned to the car and the luxury of air conditioning.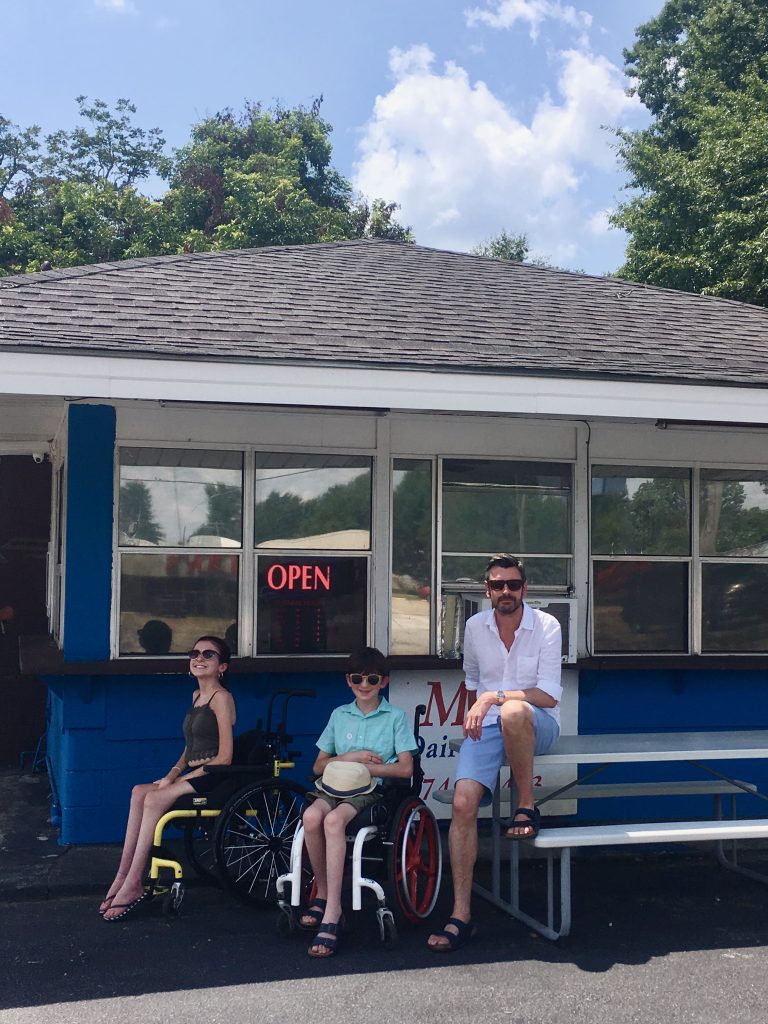 It was in fact such a luxury that the children were very happy to remain in the car when we took a detour to the nearby Hillcrest cemetery so that I could pay my respects. Harper Lee passed away in 2016 and a small, private family ceremony saw her laid to rest alongside her father and sister in the family plot. A simply marked grave seemed very fitting for the woman who, despite achieving worldwide success with her book, chose to live a very private life.